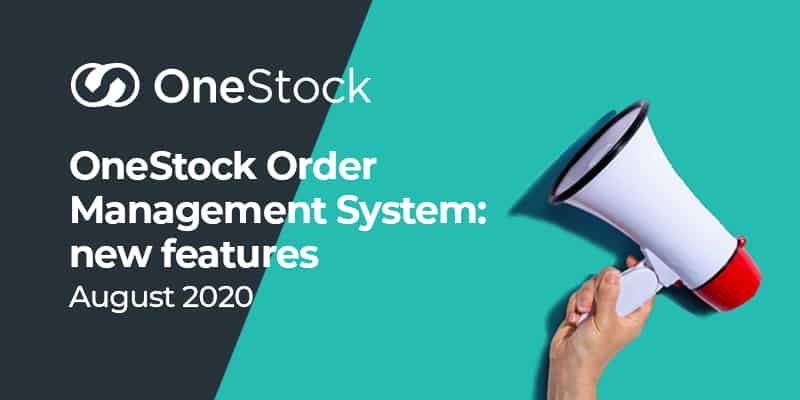 3 min
OneStock OMS: August new features
Busy summer at OneStock with major new features released in the OMS:
Out of stock has a new enemy: future stock!
Orchestration secures on-time delivery by taking into account the promised delivery date
Sell the stock you don't have yet
OneStock no longer just unifies the stock you have in all your endpoints, it also manages the stock you don't have yet!
Inform OneStock about the purchase orders and stock in transit to one of your warehouses or stores and OneStock can integrate it into the unified stock available for sale.
Transparently
When selling future stock, the customer must be clearly informed of the impact on the delivery time of his order. OneStock's Delivery Promise module allows you to find out the delivery dates and times for all available delivery and collection methods from the product page or shopping cart page.
This module now takes these future stocks into account so that the customer knows immediately when the item will be available for him.
And if your future stock is running late, OneStock notifies you, or your customers, for each affected customer order! A new delivery date is automatically recalculated and can be communicated to your customers.
Keep hold on the orchestration
With OneStock, you keep control of the order orchestration. You easily define your business constraints to allocate orders directly from the OneStock screens.
You are in control of the use of these future stocks. You can define which stock you want to prioritize and which future stock is eligible to process your orders.
Go even further
You can configure all types of future stocks in OneStock: purchase order, in transit, but also orderable, for example. You can tell OneStock that certain items can be ordered from a supplier and delivered within n days.
You enrich your catalogue with everything your supplier has to offer without taking any risks: you only order from your supplier what you have already sold to your customers! OneStock integrates this orderable stock into the unified stock and Delivery Promise and manages the orchestration.
Secure on-time delivery
Before the order is placed, OneStock calculates the Delivery Promise. This promise is now also calculated during the orchestration of the order to ensure that the order is delivered on time to the customer.
You configure your orchestration rules as before. OneStock will do all the calculations itself to select only those candidates who will be able to meet the deadline!
You keep control of any delays. You can configure OneStock to automatically reprocess orders that are late and allow a certain tolerance compared to the original promised delivery date. You can extend this tolerance so that everything is managed automatically by OneStock according to your choices, without flooding customer service with late orders that need to be managed manually.
This way, OneStock ensures consistency between the promise and the execution of an order, with a simple configuration of your business choices.