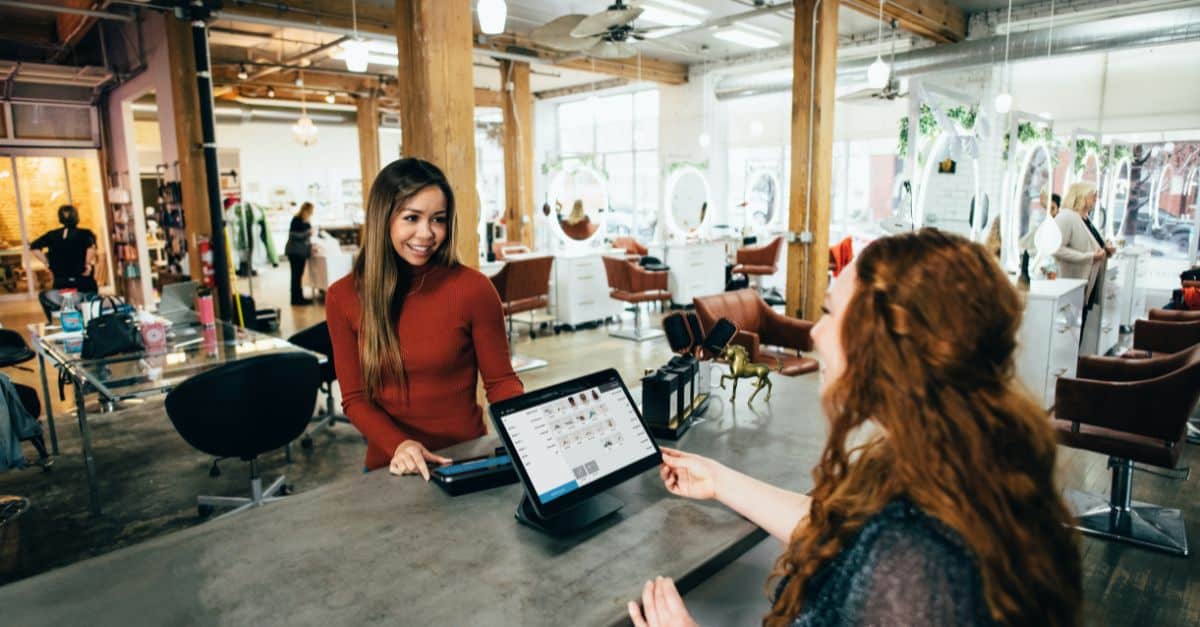 5 min
4 reasons to choose OneStock's Order Management System
Since 2012, OneStock has made omnichannel retail possible for more than 70 B2C and B2B businesses with our leading Order Management System (OMS).
To understand this success, let's zoom in on four reasons OneStock is a model Order Management System and an expert in unified commerce.
1. Our Order Management System drives customer acquisition
More than half of shoppers will switch to a competitor if the product they want is unavailable to buy.
OneStock OMS reduces product unavailability by making all products available for sale, whether they are in a warehouse, in a shop, or at a supplier's. This is the basic principle of unified stock and the first function of an OMS: products from all physical locations are grouped into a single theoretical stock, which can be purchased through any sales channel.
If a customer is looking for a product that is not available in-store, it is then possible for your sales team to consult an up-to-date inventory of other stores and direct them there, or place an order for the customer through an interface. This is very useful, especially for seasonal shops. Selling at the right time reduces the number of unsold items and end-of-season discounts.
This is also effective online. Products that are always available result in fuller shopping carts. Unified stock has a direct impact on business performance by increasing sales and acquiring – and retaining – more customers.
2. The OneStock Order Management System optimises order picking
The second function of an OMS is order orchestration.
In a world where customers expect to receive their parcels within a few days, or even the next day, at a reduced price, with minimal environmental impact, having total control over each step of the delivery process is increasingly important.
Customers want ambitious delivery promises that are kept, and this becomes possible with an omnichannel inventory and order management tool.
Once your stocks have been unified, it is possible for an order to be fulfilled in respect of specific criteria, such as carrier costs or carbon emissions. An order can then be prepared, for example, from the warehouse or store closest to the final destination of the parcel, thereby reducing the carbon footprint associated with transporting the order.
Transforming physical stores into mini fulfilment centres also expands the scope for performance and service. In concrete terms, perfect orchestration of orders allows for shorter delivery times by choosing the most suitable physical location for rapid preparation of an order.
With OneStock, your delivery promise becomes more accurate and reliable with real-time information and, more than that, same-day delivery can be supported to perfection.
3. The OneStock Order Management System supports staff workloads
An Order Management System enables you to implement a huge range of omnichannel solutions, such as Click and Collect, Ship From Store and Order in Store.
However, setting up these services and keeping them running effectively requires effort from your store associates, so they need to be equipped accordingly. OneStock puts in their hands an easy-to-access and easy-to-use interface that brings together all in-store tasks.
It allows them to manage any stock-related operation and to adapt to any customer request. From confirming an order online to handing it over to the customer or carrier, everything becomes possible in-store.
And as more digital technology is integrated into your physical stores, OneStock can link them all together.
4. OneStock Order Management System simplifies returns
Today, a return costs a retailer three times more than the original shipment – but customer expectations for returns are just as high as they are for deliveries.
To make this process easier (and potentially more cost-effective), OneStock OMS gives retailers more choice on how returns are managed. With your physical shops connected and functioning as mini fulfilment centres, they now have the ability to process a return, even for an order made online or in another store.
This greatly enhances the customer experience, allowing them to choose their return method, whether it is to their favourite store or a local drop-off point.
In any case, unified stock allows the product to be put back on sale as soon as it is received. Inventories are therefore frequently replenished and unsold items reduced.
Today's retailers are faced with ever-increasing customer demands. Meeting these challenges requires rigorous organisation and reliable logistics.
OneStock's Order Management has been providing the tools businesses need to keep their customers happy for 10 years.