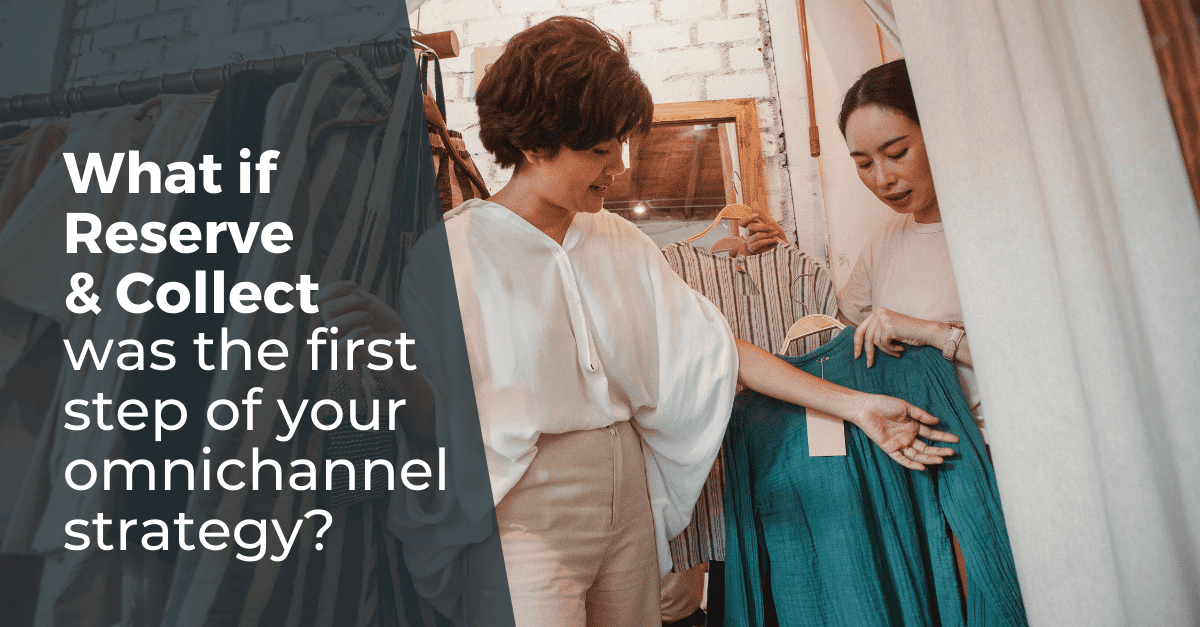 5 min
What if Reserve & Collect was the first step of your omnichannel strategy?
Reserve & Collect, also known as "Click & Reserve" or "Reserve In‑Store", allows your customers to check the availability of an item in-store and reserve it, without needing to pay for it until they visit the store. Just like with Click & Collect, this service is a response to web shoppers' new consumer habits. Some fast-fashion giants like Zara have made it a must-have service. However, Reserve & Collect is not just for retail behemoths. Simple and quick to implement, the solution is a good way to start an omnichannel strategy.
Why implement Reserve & Collect? What are the benefits for customers and retailers? Let's go over all the essentials in this article!
Reserve & Collect: the ideal first step towards omnichannel
The inability to get a feel for or try on items is one of the main barriers to online shopping. Reserve & Collect offers an ideal solution to this problem by allowing the web shopper to come and try on an item in-store.
Unlike Click & Collect, this is not an order, but rather a simple reservation without prepayment. This is a real guarantee of customer satisfaction!
When establishing an omnichannel strategy, some services can be complicated to implement.  This is not the case with Reserve & Collect, which only requires the retailer to have access to store stock. Moreover, it is a simple and quick solution to set up.
All you need to do is to integrate a "Reserve & Collect" button on your product pages and the next stages are then managed by an OMS (order management system) such as OneStock. Thanks to this omnichannel functionality, you will get a quick ROI.
Not convinced? Here are the many benefits of Reserve & Collect.
The Retail Benefits
Increase in-store footfall: Reserve & Collect is a great way to drive Web to Store footfall by building complementarity between the e-commerce website and the physical store. This is a proven solution to the problem of declining footfall.
Opportunity for additional sales: When they come into your store, the customers who have reserved an item are already in the mindset to purchase products. For your store associates, this is a perfect opportunity to cross-sell.  According to a FEVAD report, nearly 33% of online shoppers made the most of an in-store order pick-up to purchase other products during their visit. It is also possible to push additional items available in stores when a customer makes a reservation online. This will further promote additional sales.
A service that builds customer loyalty: Reserve & Collect is a modern service that is very beneficial in terms of brand image. Today's consumers expect a fast and flexible shopping experience. It is one of the keys to building customer loyalty. Remember, loyalty is cheaper than acquisition!
Reduce the number of returns: Time-consuming and costly, product returns are an inconvenience for both the customer and the retailer. Reserve & Collect reduces the return rate considerably because the customer tries on the product before buying it. They can see, touch and try on the item. No more size problems, no more fabric problems, no more delivery errors… By reducing the return rate, the retailer also reduces its carrier costs!
The Customer Benefits
A free, no-commitment service: Reserve & Collect does not require any pre-payment from the customer and no bank details are requested either. All they have to do is book a time slot to come and try on the article!
An immediately available product: With Reserve & Collect, the item they want is available very quickly in the store. For customers in a hurry, this is a great way to avoid the delivery delays associated with online ordering. It is also a good way to avoid going to the store just to find the article you wanted isn't available.
In-store advice: Store associates can be of great help to the customers by offering advice on how to use the product and other relevant information. For some items, such as clothing, personal assistance and advice are not only very helpful but also particularly appreciated by shoppers.
A more eco-friendly service: Environmental concerns are very important to today's consumers. Reserve & Collect reduces transportation as it is the customer who comes to the product and not the other way round. Furthermore, as we have seen, this type of service reduces returns and therefore the CO2 emissions linked to the transport of the returned article.
The success of Reserve & Collect services is inextricably linked to changing consumer expectations. Practical and economical, this solution allows retailers to start implementing an efficient omnichannel strategy at a low cost. This is a real opportunity for retailers!
Reserve & Collect is only possible, however, thanks to the deployment of an OMS and stock unification.
OneStock can offer you a tailor-made service, so be sure to check out what we offer.