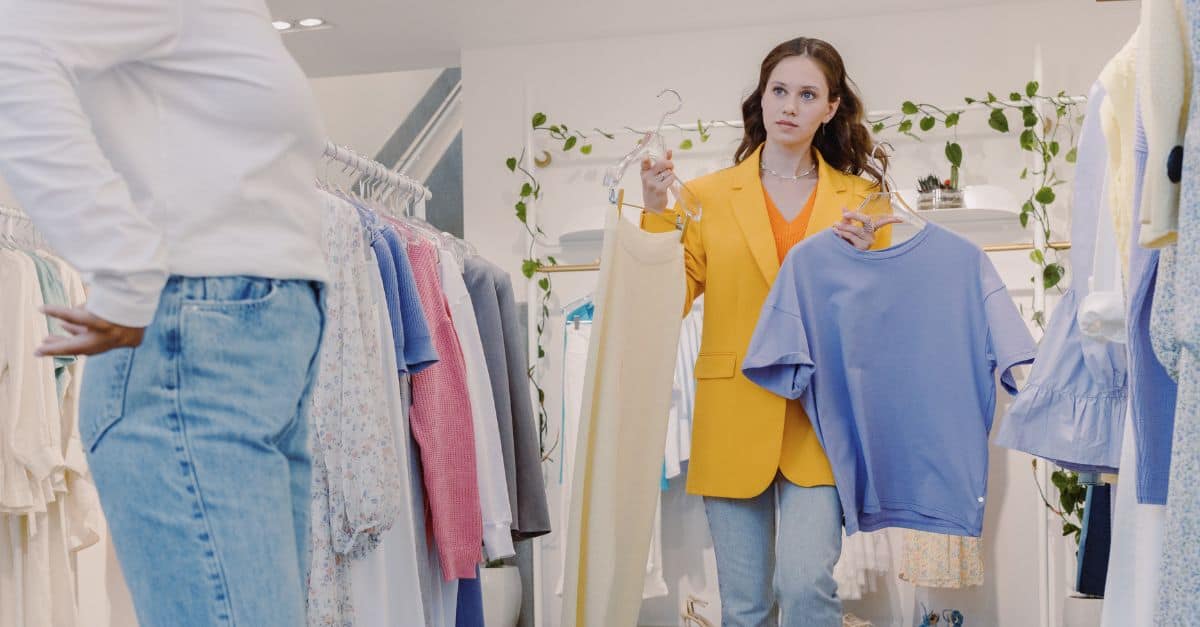 4 min
3 key digital trends to transform your stores
The physical store has evolved and is now integral to a successful retail strategy. Even as e-commerce continues its crazy race for sales, it's clear that if your business is not omnichannel, you're not in the game anymore. But how do you create a truly immersive experience that will drive customers in-store, and convert? We've rounded up the key digital retail trends that will help your stores succeed in 2022 and beyond.
1. Rethink the role of your stores
More than a physical display to showcase your products, your stores must provide a unique brand experience to leave a lasting impression on your customers. They must be sensorial, immersive and experimental. These brands have created in-store experiences that aren't easily forgotten:
Sezane: As one of the most successful digitally native vertical brands (DNVB), Sezane has created unconventional physical stores, which they don't call 'stores', but 'apartments'. These locations offer a limited selection of products, based on the brand's current collection and their never-out-of-stock basics. In this way, Sezane creates a very personal in-store experience: you can't have 100 people in an apartment, and nor in a Sezane store! Customers are asked to wait in the entrance and a store advisor will open the door for you and invite you in.
Jacquemus: For its collection 'Pink 2', Jacquemus created an immersive pink pop-up store, which was open 24/7 and allowed customers to buy its iconic bag 'Bambino Long' through a 'vending machine'. Customers selected a window, paid with their card and were given a code that opened another window where they collected their new bag. This concept was a great commercial and marketing strategy that put the brand in the spotlight while also attracting customers who were willing to buy a product to be a part of a completely unique experience.
IKEA: In 2021, the brand took a step forward in its journey to becoming a fully circular business by 2030, opening a second-hand pop-up store in Sweden. While pop up stores have been around for a while now, the difference here is that IKEA were selling second-hand items – in turn benefitting the circular economy. To learn more about this hot topic, take a read through our whitepaper here.
2. Embrace technology to create an immersive experience in-store
We're not just talking about putting digital screens in your stores. It's about creating a fully immersive retail experience in which customers can get involved and participate. Here are a few retailers doing this already:
A store in your pocket: Everybody has a store in their pocket now. A mobile phone allows you to buy anything you want there and then. With the help of technology, Amazon has started rolling out an exclusive experience in its grocery stores where QR codes are used and enable customers to purchase goods without having to go through a checkout.
Connected fitting rooms at Decathlon: Thanks to in-store technology, customers can scan clothes before trying them on and then can ask for another size or colour directly through a screen in the fitting room. It is a much more efficient way to communicate with store associates, and for store staff, it is easier to take care of several customers at the same time.
3. Empower your store associates through the use of technology
To transform your stores, you first have to empower your store associates, which is where omnichannel and Order Management System come in. Let's have a look at three great in-store solutions:
Order in Store: Thanks to this omnichannel solution, your store associates will no longer end up with stock outs. An item isn't available on the store shelves? No problem – if it's available in another store, warehouse or other sales channel, they can easily order it for their customer via their in-store app.
Click and Collect: One of your customers' favourite delivery methods, it is easy to implement and order collections are a great way to encourage cross-selling in store.
In-Store Appointments: An ideal way to generate relationships between store associates and customers is to create personalised shopping experiences. Store staff can share new collections, select recommended products, or help with a specific gift search. In-store appointments transform your store associates into advisors and personal stylists, helping to reinforce your brand image.
Looking to transform your stores? Contact us now.