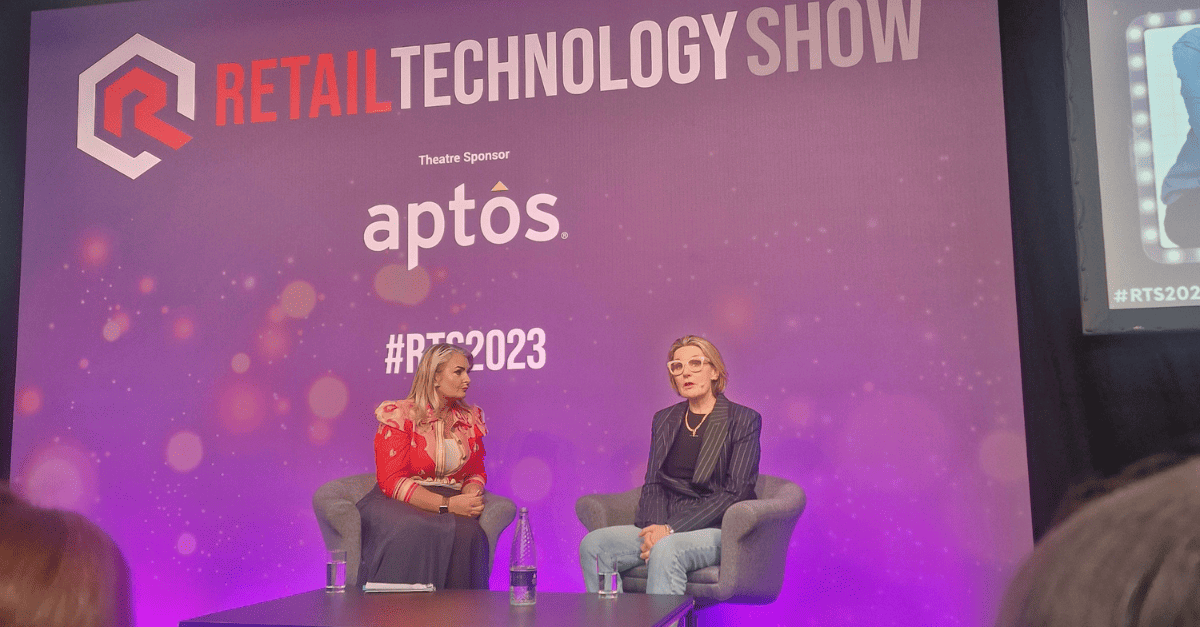 7 min
Retail Technology Show: how to build a better business
"Technology undoubtedly has the potential for extraordinary destruction or extraordinary creativity," says Mary Portas. Speaking at Retail Technology Show 2023, the 'Queen of Shops' praised the industry's innovation through COVID-19, transforming business for the better through connection, collaboration and community. "We are in the most innovative, creative time that I've ever seen in the years I've been in retail."
On day two of the conference in London, retailers and tech experts came together to discuss how they're driving sustainability initiatives, supply chains and omnichannel growth through technology. Here's what we learnt:
Why the kindness economy is the future of retail
Mary Portas started her career in the industry believing that great retail was determined by sales, profit and growth – and she helped to grow some of the biggest names in the business. But in doing so, she says, "we didn't realise that we were extracting from the world and … causing great anxiety to so many people."
Today, she still wants to see retailers grow, but it must be done with a conscience. She calls this The Kindness Economy, which puts people and the planet before profit. Many successful businesses have already been built this way – Mary points to Patagonia, Lush and Aesop, which have been ethical since inception.
But any brand can become a better business. It requires thoughtfulness when planning marketing campaigns to consider whether they are tickling anxieties in people or encouraging overconsumption. Mary says every retailer should question why they participate in Black Friday: "it's just a vehicle for selling more stuff without any generosity at the heart of it."
The demand for change exists – over 80% of people want to shop with brands that share their values – but retailers have been too slow to adapt. That's why Mary has founded the Better Business Act, a business-led campaign to change the law to ensure every UK company, big or small, takes ownership of its social and environmental impact.
"It's a cultural shift," says Mary. "We're in new territory and here's the thing: there's no map to follow, there's only a compass, and the only compass you should be using is a moral compass."
Navigating the interplay between people, planet & profit
Paul Martin, Global Retail Lead at consulting firm KPMG, agrees that retailers must place people, planet and profit at the heart of their agendas.
The current talent shortage is one of the biggest challenges facing retailers globally. As wages rise to attract and retain employees, the natural choice to avoid margin loss has been to reduce headcount and investment in tools and training. However, the long-term costs of this are often underestimated.
Simon Pakenham-Walsh, CTO at Sweaty Betty, described how an outdated POS system had the brand's customers waiting in long queues with no help available on the shop floor. Poor customer experiences like this have a direct impact on sales. The installation of a new mobile POS allowed associates to spend more time talking to customers, properly guiding the buying journey.
The role of a store associate is often undervalued – they have the potential to influence consumer buying choices, collect valuable consumer insights, and become a trusted part of the local community. However, to be effective in these roles, they must be paid fairly, provided with training, and equipped with technology. Far from replacing them, automation can free them from repetitive tasks to better serve customers and fulfil new roles, either on the shop floor or within the supply chain.
To meet consumer demand around sustainability, more retailers are introducing resale initiatives – particularly in fashion, where the second-hand market is expected to grow three times faster than the global fashion market. In furniture retail, IKEA's Buyback & Resell initiative offers store credit for used goods resold on site.
Håkan Nordkvist, former Head of Sustainability & Innovation at IKEA, noted that managing the inspection and refurbishment of returned products benefited from internal product knowledge, visibility of product condition, and the opportunity to turn the capability into a new service for customers and an additional revenue stream. Although the cost of reverse logistics should be considered, the focus should be on the long-term lifespan and profitability of each product.
Building a more resilient supply chain
Paul Martin also outlined some key themes that KPMG believed supply chain professionals should currently be focused on.
Following a series of unprecedented geopolitical events that have fundamentally changed the flow of goods, retailers need to enhance their agility. Amy McNamara, Head of Operations at Boohoo Group, also highlighted the need to build flexibility into supply chains to minimise disruptions. The Group currently has 20 different carrier partners, providing options to pivot when capacity impacts delivery times. Kevin Davis, former Head of Logistics at Marks & Spencer, adds that retailers should have an integrated network of carriers that is not one-size-fits-all across geographies.
As every part of the supply chain grapples with decreasing margins, retailers also need to embrace collaboration. By capturing data throughout the supply chain and sharing it with trading partners, retailers will be able to swiftly respond to customer demands, and source and supply the right products to each point of distribution. The key to this will be supply chain visibility and smart orchestration, underpinned by business intelligence capabilities.
Finally, Paul Martin believes that the supply chain has a "major role to play in the sustainability agenda going forward." Customer insights can help to reduce the number of products that are sourced and not sold, while the optimisation of stock and order allocation can reduce freight miles and packaging.
Boohoo Group has integrated with the zero-emission carrier HIVED to reduce the environmental impact of their deliveries, while Laura Rosenberger, co-founder of Laylo, has partnered with bigger retailers to fill spaces on their trailers, not only sharing in their economies of scale but also reducing the number of vehicles needed on the road.
Creating a customer experience that delivers on convenience
Stores will also continue to play a central role in the supply chain for omnichannel retailers, as consumers increasingly demand faster, more convenient fulfilment.
The convenience offered by the store network of hardware retailer Screwfix is of huge importance to their customers, where 80% of sales are from trade and time really is money. Screwfix has opened one new location each week for the past 10 years. Now, over 95% of the UK population lives within 20 minutes of a Screwfix store.
With near real-time stock availability, tradespeople can check that the items they need are available in their nearest store and can Click and Collect within one minute of placing their order. If they can't leave their site, Screwfix Sprint offers delivery from store to door on 7,000 items within 60 minutes. The fastest delivery to date took just seven minutes.
Through their fulfilment offerings, Screwfix truly delivers on its mission to help customers get jobs done quickly, affordably, and right the first time. Sue Harries, Digital Propositions & Data Director at Screwfix, says these innovations fit within the brand's DNA and have been driven by an understanding of their customers' wants and needs – Screwfix has a panel of 20,000 customers that they regularly contact for feedback.
"What do customers want?" asked Kate Hardcastle, 'The Customer Whisperer,' in the first session of the day. Having a strong sense of customer and purpose will guide retailers in determining the strategies and technologies that will improve profitability and keep people coming back. "This is about finding your voice, making it count, building a relationship with stickability."
"We all know the basic retail equation," says Kate. "It costs so much more to acquire a customer than to keep them. Let's keep them!"