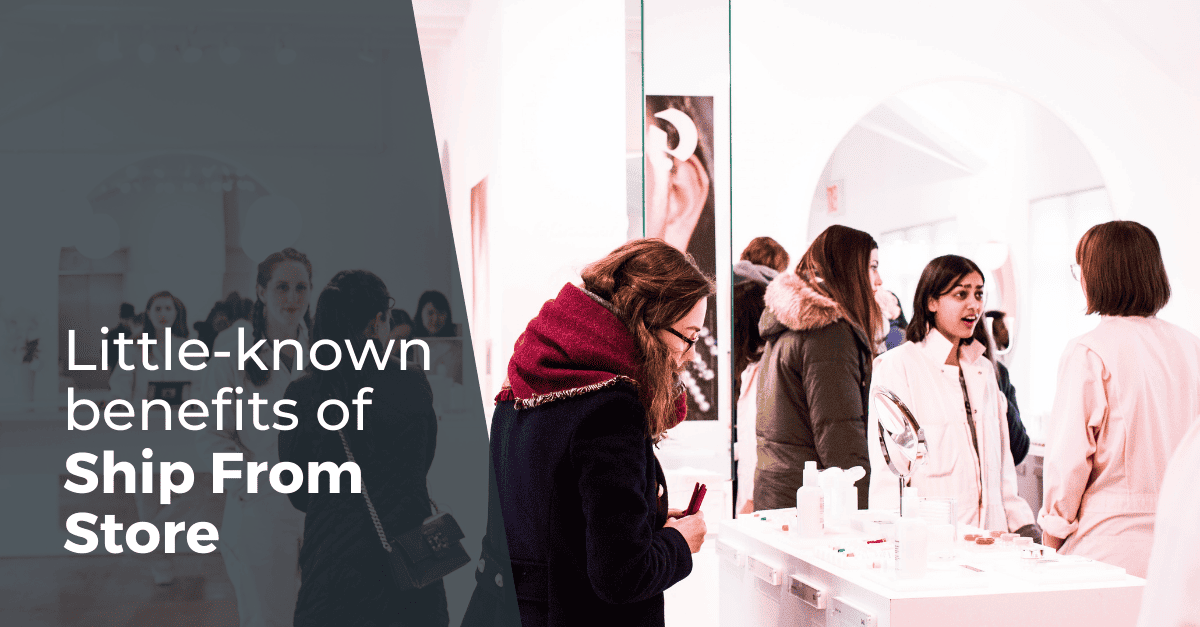 5 min
Little-known benefits of Ship From Store: helping stores to better know their stock and to sell more to their customers!
This article is intended for readers who are already familiar with the Ship from Store solution, its use and its benefits.
Ship from Store is an omnichannel solution with many benefits for retailers. Amongst the now 'accepted' benefits we note:
On the online side: the improvement of stock available for sale on the digital channel. This allows for a clear increase in e-commerce sales, of at least 25%* with the OneStock OMS (*average calculated among customers using our solution)
In-store: the assurance of selling out of almost all store stock. Indeed, even if your customers do not buy all of your items when they come to the store, the Ship from Store solution allows you to sell off stock by processing an online order from the store.
These are the benefits that everyone knows about. What we want to do today is to present you with a considerable benefit that is still unknown but which our customers are already enjoying!
Ship from Store + e-commerce = improved physical sales?
It may seem surprising but the e-commerce channel added to Ship from Store can help you, in store, to increase sales to your physical customers! In-store sales have been shown to increase by around +5%.
Stores that actively use Ship from Store have a better understanding of their stock (we will explain this in detail in the next few lines of  this article). And having the right stock allows you to sell more to physical customers.
For example, if store staff prepare a Ship from Store order and the stock information is not correct then imagine that the required item is missing. The preparation of the order becomes impossible and its cancellation inevitable. The order would be prepared by another store while the store staff member would have to declare the missing stock in his Ship From Store application… automatically correcting the unified stock.
The Stores that are actively using Ship from Store have grown by almost 5% compared to the Stores that are not. It may seem almost surprising, but the fact that we have to declare one or more missing items in the OneStock application means that the stock is more accurate and therefore our branches sell better in the physical store. So it's a rather interesting side effect.

Mathilde Watine – Leader transformation omnicanale, IDKIDS
It's a little counter-intuitive, we admit. In fact, many retailers think that, in order to launch a Ship from Store solution, the prerequisite is that the stock is as reliable as possible, because it is stock that is advertised to customers, so it is advisable not to make mistakes.
This is what the OneStock teams have found in reality, following the launch of Ship from Store projects around the world. Having reliable and accurate stock is not a compulsory requirement, but rather a consequence. Indeed, by declaring items as unavailable,store staff take account of their stock much more quickly.
Ship from Store forces store teams to take what is known as a rolling inventory, which they generally never do. This inventory is particularly useful here and allows to:
Facilitate sales. You will notice it quickly after launching Ship from Store and your store staff  will be thrilled to sell so effortlessly
Quickly and simply check the references in store
This way, in-store your team has a better knowledge of the missing references. The point of sale alerts the central warehouse more quickly to the need to restock certain items, which means that the store stock is more accurate, more complete and includes more references for the consumer. Mathilde Watine, Omnichannel Transformation Leader of the IDKIDS Group, confirmed this in a recent interview, and it is confirmed by an increase in retail turnover for the stores: + 5%!
Reliable store stock is not a prerequisite for launching Ship From Store
Let us conclude this article by explaining why, in our opinion, a truly reliable store inventory is not a mandatory prerequisite for launching a Ship from Store solution. We agree that having the most accurate stock possible is essential as this stock will be visible to the e-commerce buyer, so it's better not to get it wrong!
However, no brand in the world has an exact vision of the state of its stocks in each of its stores.
Yes, stock tools exist and are widespread, but it is enough for the warehouse to have sent the wrong reference, for the store not to notice it on reception, and for the wrong product to be received in the wrong size… if it is not sold, the customer does not inform us and we are not aware that there is a stock error!
There are many possible stock errors:
The wrong product sent from the warehouse,
Theft,
Defective parts…
The more the season progresses, the more errors can accumulate. However, this does not prevent you from implementing the Ship from Store. Some retailers had absolutely no vision of their shop inventory, but the implementation of Ship from Store, thanks to the advice of our expert teams, was still a success. OneStock helped them deploy the solution and, for retailers with a large network of stores, to smooth out and correct the small errors made by one or more stock points for the rest of the network!
Would you like to know more? Contact us for more information!