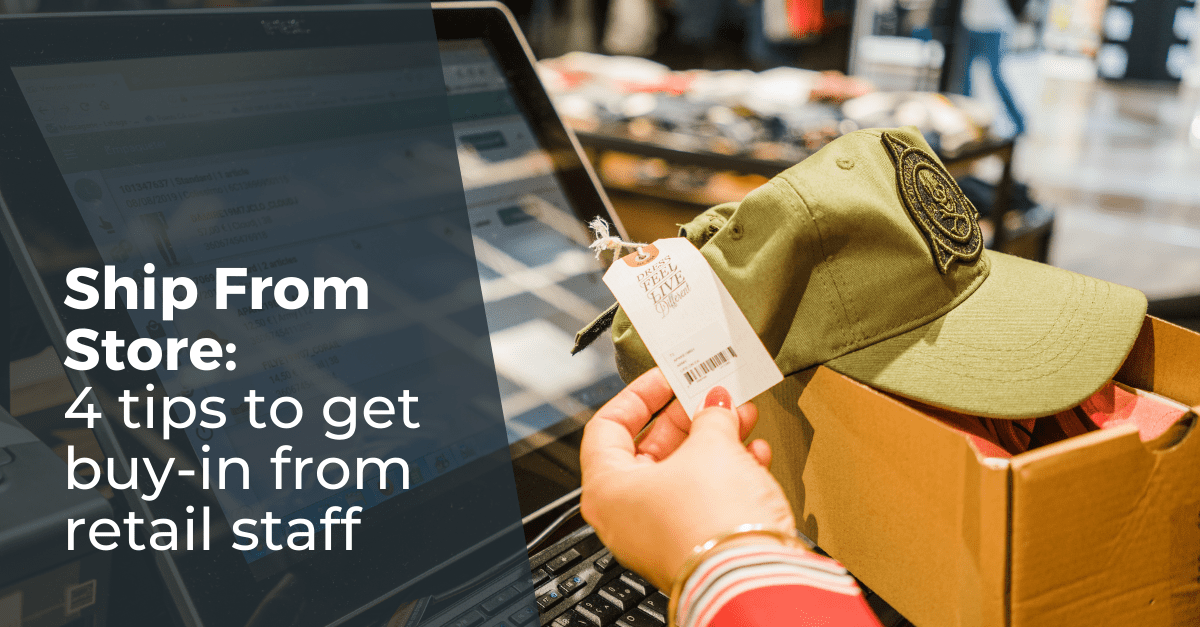 4 min
Ship From Store: 4 tips to get buy-in from your retail teams
Ship from Store is one of the most popular omnichannel solutions for businesses. Our clients regularly ask us to review their Ship From Store strategy because they know it's one of our flagship solutions. We are the experts.
The main issue with a Ship From Store project is the buy-in from the retail teams. Ship From Store changes the daily activity of store staff as it gives them an additional role, that of order picker.
For this reason, we'll be sharing with you our 4 top tips to ensure your retail team are on board when launching your Ship From Store project.
Ship From Store Tip 1: Involve retail staff in the project and clarify the role of the store associates
Involve retail team representatives from the very beginning of your omnichannel project. It's certain that if Ship From Store is a solution that will directly impact them, they will be more inclined to support it if they feel part of the project from the beginning. They will then facilitate the hand over to the store associates.
Ask them about their daily procedures. What areas for improvement have already been identified? What is their current relationship with the digital solutions already in place?
Then present Ship From Store to them. Explain why you want to implement it. What will it change for the store and, above all, what will be expected of the store staff on a daily basis? Remove any obstacles by highlighting that the heart of their activity remains customer service and advice. Ship From Store must be seen as a positive, aimed at improving the economic performance of the store, particularly during quiet spells.
Ship From Store Tip 2: Consider Competitive Orchestration
Competitive orchestration is a feature specific to OneStock that reduces the pressure on stores. This feature allows the same order to be allocated to all eligible stores.
Competitive orchestration of orders is modelled on service applications such as Uber. Customer orders remain in perpetual motion, unlike 'waterfall' orders where a specific stock point is determined and the order must be manually declined before it can be put back into play.
Competitive orchestration has a clear advantage: if your store associates are busy with customers and do not have the opportunity to decline the order, the customer order will be met by another store.
Ship From Store Tip 3: Don't neglect incentives
Clarity about incentives is crucial to motivate teams to facilitate Ship From Store. Make sure you communicate this point well from the start:
Several options are possible:
Allocate 100% of the turnover of Ship From Store orders to the preparing Store,
Allocate 100% of the turnover of Ship From Store orders to Online sales,
Allocate 50% of the turnover of Ship From Store orders to Online sales and 50% to the preparing Store,
Define customised %s according to specific rules…
Allocating all or part of a Ship From Store order to your store teams will increase their motivation. They'll be much more inclined to get on board!
Ship From Store Tip 4: Choose an all-in-one, easy-to-use tool
To make things as simple as possible, it's essential to be thorough when selecting your Ship From Store provider. To simplify the daily life of store staff, it's important to limit the number of tools used. This is why choosing an all-in-one omnichannel solution allows you to train your store staff using a single system.
As the leader in Ship From Store, OneStock offers an intuitive tool designed for its end users. At a glance, the interface allows you to access orders to be prepared, print delivery notes and synchronise the carrier contact. Everything is designed to be a pleasure to use for the store staff.
If you would like to know more about Ship From Store, please contact us!