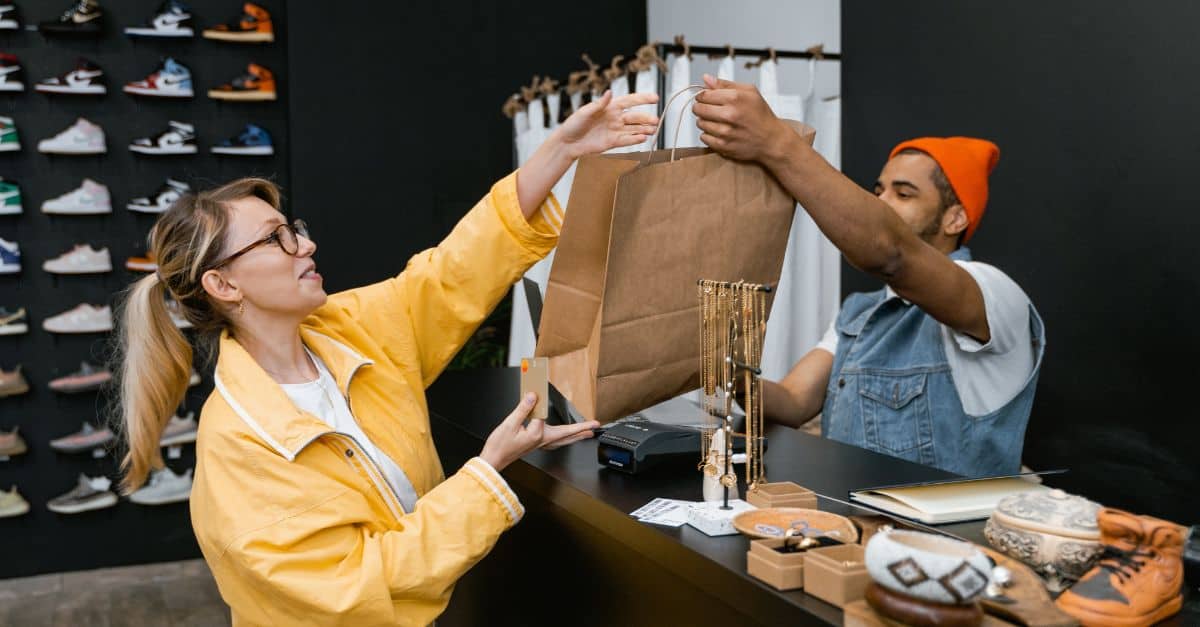 4 min
3 ideas to make returns easier for your customers & your business
Let's get straight to the point: returns are still a hot topic for everyone in retail right now. Customers expect brands to make the return process as smooth as possible, and this can be both a pain point and an opportunity. If you want to make returns management easier for customers and colleagues, this article is for you.
With returns a growing topic, you need an action plan
As global e-commerce figures hit $5 trillion and retail sales reach $26 trillion in 2021, we can easily conclude that returns methods, and clear return processes are today a fundamental part of a great customer experience. Consumers are more connected than ever before and want the best possible shopping journey. They are buying more and more, and as a result, the number of items being returned are increasing exponentially.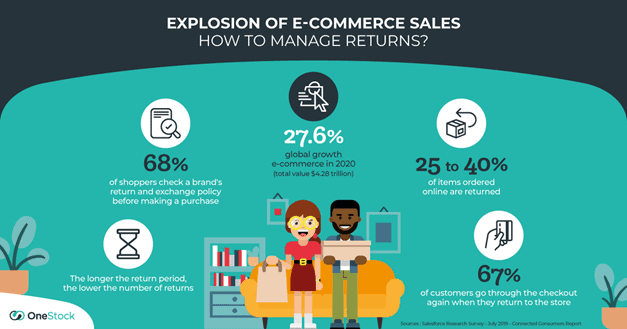 Three ideas to streamline your returns process
If you want to launch or improve your returns policy, then we advise you to:
Collect & analyse customer returns data
Data can drive and transform your business if you are able to compare, deduce and act upon it. We advise you to focus on a specific period and analyse the number of returns made by your customers: How many were made in a particular period? What is the preferred returns method? How many are made in-store vs. by carrier pick-up? How many blind returns do you receive?
We then recommend that you look at the reasons why people generally return a product: sizing issues, items are different to what the customer expected, wrong items received, poor value items, articles damaged, shipping and delivery delays, items not liked by the customer, etc.
With this data you will be able to update your processes and have a much better match with your customers' expectations. You should review this data weekly to get real insights on how you develop both products and services.
Involve key stakeholders
Step two consists of sharing the results of your studies with specific stakeholders to establish best practices when it comes to minimising the impact of returns on your business:
Buying: If your return reasons are mostly linked to 'poor value items' then you must immediately inform your buying team. Quality has a strong impact on customer loyalty but also on your brand image so you must react quickly.
E-commerce: Your e-commerce teams should always be concerned by returns and work to reduce the e-commerce return rate? How? By improving the online experience: be careful with the product images, make sure the item colour is the real one, add videos on the product pages so customers can see how it works or how it fits etc.
Logistics: There will always be unavoidable delays in delivery times, but these must be rare, or at least well communicated with customers. Having more carriers integrated may be a good solution to solve this issue.
Stores: Store teams should be trained to accept online returns and also to improve the in-store experience to avoid more orders being returned. For example, encouraging people to try in-store before buying or booking an in-store appointment before making a purchase.
Make return easier for your customers
To improve your returns offering you have to put yourself in your customers' shoes. Offer a clear, easy to use and customer-friendly returns policy. And as free returns are a real commercial advantage, keep in mind that your policy must match your products' value i.e. returning a bra should be easier and free compared to returning an armchair.
Returns are a fundamental part in the shopping journey, and therefore you must define:
Which items can be returned? Do you accept returns on 'sale' items?
Do you offer exchanges?
How many times can your customers return their items?
The quality control standards to accept a return?
The options offered to your customers – Gift voucher? Refund? Exchange?
And to simplify the process you should be giving them more than one option to return their items. OneStock's Order Management System (OMS) and Returns Management module can help you easily provide your customers with:
A user-friendly, self-service, iframe-based website where customers will find all necessary information on how to return a product
The possibility to return in store items bought online
Plus many other return options
Once you have defined your returns policy and options, we advise you to regularly communicate with your customers and message them at every step of the process – to confirm receipt of returned items, return acceptance and refunds.
To learn more about returns management, contact one of our omnichannel experts today.