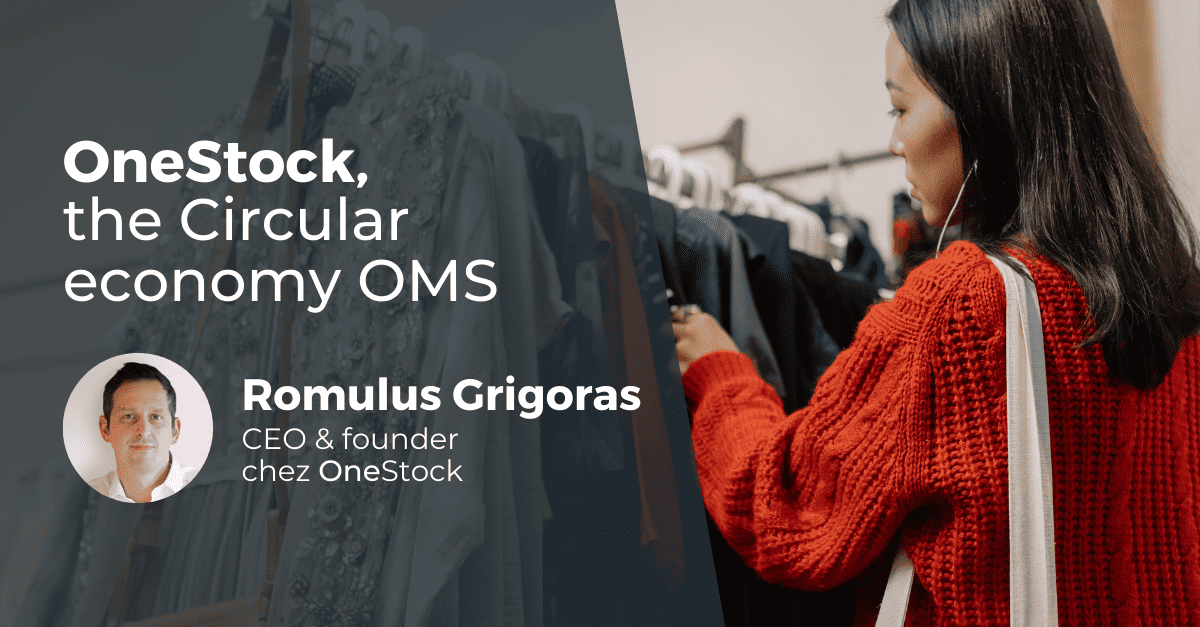 3 min
OneStock: the OMS for the circular economy
At the heart of retailers' concerns and buyers' motivations, and democratised by platforms such as Vinted, thredUP and Poshmark, the circular economy has truly become part of consumer shopping habits.
But the concept of a circular economy is rapidly evolving. It is no longer simply a question of swapping or selling between one consumer to another. Interest from the retail sector has increased and great initiatives have emerged at ba&sh, Burberry, Balzac Paris, H&M, Sandro, Kaporal, Farfetch and many others. Brands now play a central role in the quality control of items and their re-sale. Some, like Petit Bateau, have even created concessions and stores dedicated to second-hand product.
This trend is likely to intensify significantly in the coming years. According to Cross-Border Commerce Europe, the second-hand fashion market is growing 11 times faster than traditional commerce and is expected to double in size by 2025.
At OneStock, we have always put environmental and societal issues at the heart of our business strategy, and this is reflected in both our CSR policy and our product development. We are delighted to support brands when it comes to making a positive impact on the environment, and OneStock is now considered the leading Order Management System (OMS) for the circular economy.
OneStock is the first OMS to take a real interest in issues surrounding the circular economy. We are proud of this approach, which is the logical extension of all our employees' daily actions. We are passionate about these topics, which are totally in line with our values, and we want to be part of the movement.

Romulus Grigoras – CEO, OneStock
The OneStock OMS to foster the circular economy's positive impact
OneStock is committed to working with its customers to make the textile industry as carbon neutral as possible.
As a team, we are unanimously convinced that sustainable clothing will become a new business model for retail in the years to come. This is why we wanted our OMS to be able to orchestrate orders containing both new and second-hand products.
Our vision goes above and beyond, as the circular economy is not limited to second hand, but also implies rentals and recycling product components.

Aurélie Launay – Head of Optimisation Software & Services, OneStock
The OMS collects and puts back on sale, via the retailer, products from this circular economy. It then provides the sales channels with two stock images, one 'new' and another 'used'. The resulting orchestration of orders allows shoppers to compose mixed carts and for all fulfilment processes to be maintained, regardless of the origin of the products or their location in the network (endpoint).
From an omnichannel scenario point of view, second-hand articles can be integrated into all the existing solutions thanks to the OMS. It is, therefore, possible to search and order a product in-store, to Ship from Store…
We are proud to support brands with strong environmental commitments like Petit Bateau with their 100% second-hand corners, Kaporal with their Kaporal Vintage marketplace, Chantelle and their first zero-waste bra 'Chantelle One', ba&sh with their ba&sh Resell service, Jules and their Men In Progress approach and many more.
Retailers, the circular economy is the future of retail. Don't underestimate these environmental challenges and contact us to find out how our offer and solutions support this approach.