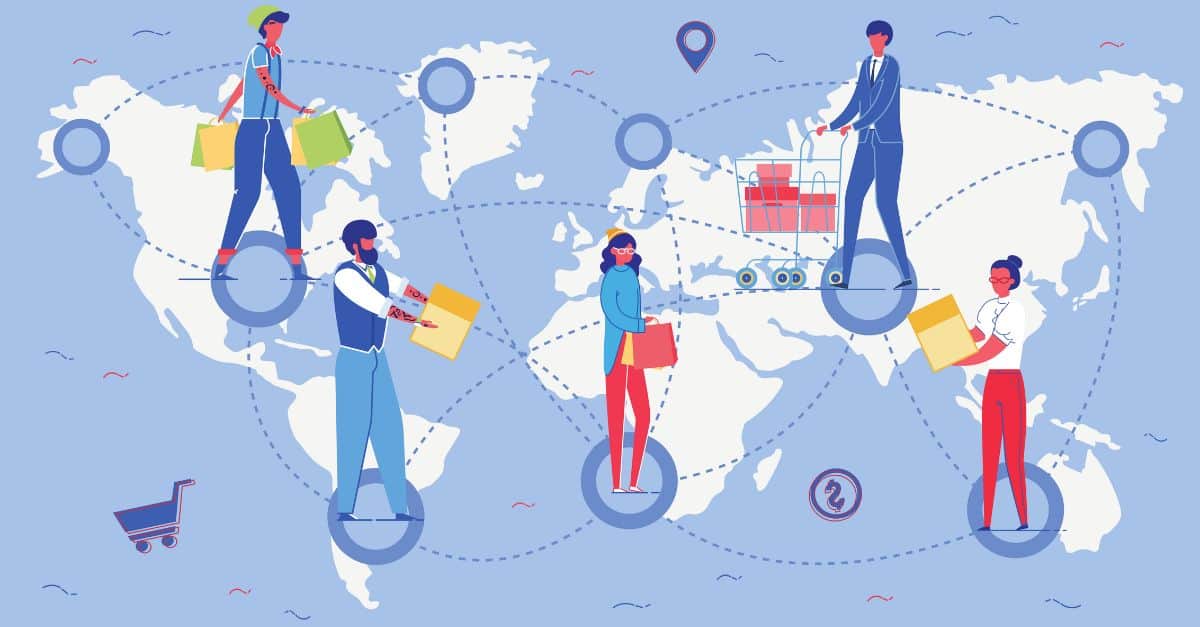 4 min
Is an omnichannel approach key for successful international expansion?
In a constantly evolving global market, brands are increasingly seeking to expand their international presence. However, achieving this expansion is not simply about opening new stores in new countries – an omnichannel strategy that seamlessly integrates different sales channels and optimises inventory management is essential for achieving international success.
Why is such an approach crucial? You'll find the answer in this article.
Understanding your customers' cultural context to define an omnichannel strategy
When a company goes international, it faces different cultures and expectations. For example, in the United States, customers are significantly more demanding and have higher expectations than in Western Europe. Due to the service culture in the US, employees often have a natural instinct for providing quality customer support, while teams in other countries may require in-depth training in this area. Teams adopt omnichannel services more readily, fond of any digital-in-store services that can improve customer satisfaction.
Another example is China, a country with a completely different technology ecosystem. Traditional email hardly exists, and platforms like Weibo and WeChat dominate the digital landscape, making it essential to use these communication channels to identify, store (in a CRM application), and interact with customers (clienteling). While the ecosystem may differ, China is distinguished by a very high demand for product quality.
International expansion offers the opportunity to learn and bring back best practices in omnichannel retail from other continents. It is by understanding the specific expectations of customers in different markets that brands can implement truly effective omnichannel strategies. Take the example of our client ba&sh, for whom international sales account for 60% of revenue with 40 stores in the US, 46 in China, and 100+ in Europe. ba&sh considered the expectations of American customers in its clienteling application by integrating general themes (sales, private sales, new collections) and more elaborate themes (reserve and collect) to engage customers as luxury brands do.
In this context, an omnichannel strategy can be adapted to local characteristics and consumer preferences while enhancing a brand's proposition globally.
Choosing an omnichannel go-to-market strategy and optimising costs with Ship from Store
It is often said that the customer experience is rooted in the act of purchasing. In this sense, expanding internationally without digital services can be extremely complex. Unified stock, Ship from Store and Order in Store are essential to an optimal customer experience.
While commercialisation strategies have gone through different phases, from 100% wholesale to 100% retail to 100% digital, OneStock believes that today's go-to-market approach must be 100% omnichannel and consider all consumer touchpoints. However, it is still necessary to make a choice about the company's central model, and a digital model does not necessarily mean that the company will focus more on e-commerce, but that its operation will be guided by digital success factors.
To enter a new territory, the same company must combine all touchpoints and determine how many wholesale customers and owned stores it wants in a specific geographic area. One of the strengths of an omnichannel strategy lies in its ability to multiply consumer touchpoints. Rather than being limited to a single sales channel, an omnichannel approach allows for the use of different channels, such as physical stores, resellers, online commerce, and marketplaces, to reach a wider audience. This is particularly important when targeting international markets. Opting for an omnichannel go-to-market approach is a winning business model. For example, ignoring wholesale in the USA means losing out on 30% of the potential market.
In such a context, omnichannel also changes the paradigm of stock management. Previously, retail tended to place all stock in warehouses and offer a very responsive store replenishment system. An omnichannel strategy allows for the opposite paradigm: it is better to allocate more stock to stores to avoid physical stockouts and buy less for the central e-commerce warehouse, as store stock will be used to fulfil local orders thanks to Ship from Store. The solution also solves a major challenge in retail: how to buy less while selling more, with a better margin, and in an inflationary context? Transport costs have also added to this challenge, and being able to deliver orders directly from local stores rather than through warehouses is even more interesting in some markets (UK with Brexit, or the USA and Switzerland with customs fees).
OneStock's Order Management System and Ship from Store solution support omnichannel brands in their international expansion and allow them to optimise costs by leveraging local store networks.