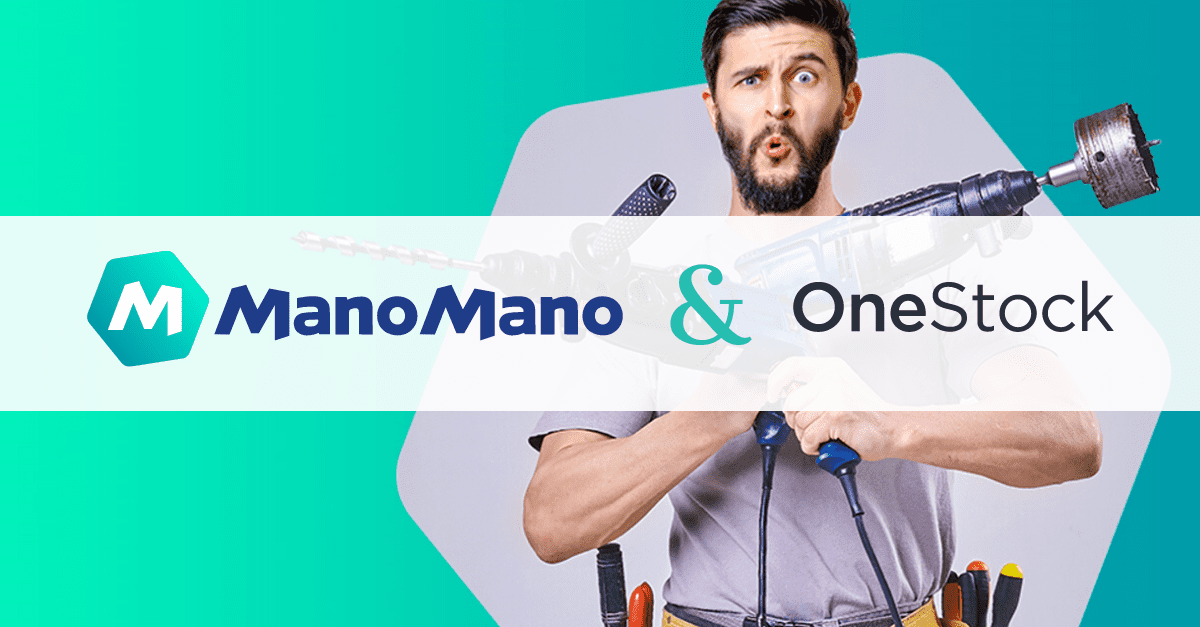 4 min
ManoMano: Europe's leading online home improvement retailer teams up with Europe's leading Order Management System
OneStock is very pleased to announce its new collaboration with ManoMano, the leading European online DIY, garden and home furniture retailer.
Founded in 2013 by Philippe de Chanville and Christian Raisson, ManoMano is digitising the DIY, garden and home furniture sector in Europe. With 420 employees and six years of trading behind it, the company, which is listed as a 'Next 40' company on the French stock market, announced 620 million euros of sales in 2019 and is today part of the top 20 most visited websites in France, including both a BtoC and BtoB offer.
Better delivery promise control on an international level thanks to an OMS
As a marketplace, a proportion of ManoMano's orders are shipped directly from merchants to consumers. With more than 2,500 merchants of different sizes, in different geographical locations, logistics may vary depending on the products and the country of delivery. In order to ensure an optimal customer experience and free merchants from logistics constraints, ManoMano is offering a service called "ManoMano Fulfillment". In collaboration with a warehouse in France since November 2018 and a warehouse in Spain since November 2019, the marketplace is working hand-in-hand with merchants to specifically offer deliveries in 24 and 48 hours, a service, among others, that has caused the customer satisfaction rate to grow by 35%.
Following this logic of optimising the delivery promise, ManoMano has the ambition to deploy this service in each of the five countries, in which it trades (UK, FR, IT, ES, DE,). To meet these new challenges and after studying the main OMS (Order Management Solution) solutions on the market, ManoMano has selected OneStock to support them in this transformation.
Order Management: the growth accelerator
To achieve its growth ambition, ManoMano has selected a tool that offers complete management of all warehouse and merchant stock, and one that calculates an acceptable delivery promise. The scale-up has chosen the OneStock OMS for its agility and expertise in unified commerce, acquired by working with major European retail brands.
To become the online leader in DIY, home and garden retail in Europe, we must provide high-quality services to our merchants and customers. The OneStock solution matches our values ​​of ingenuity and agility, and will be able to support the evolution of our business needs.

Mathieu BOUSQUET – Delivery Manager, ManoMano.
In practical terms, the first phase of deployment will focus on the foundations of an Order Management System:
Unification of stock from the different warehouses and 3000 merchants
Detailed monitoring of stock flows, movements and types
Integration and order management
Order orchestration according to warehouse capacity
Advanced delivery promise, split parcels
Delivery cost calculation
Supply chain management: management of inter-warehouse flows.
Equipping customer service staff with tools to provide the best customer experience
Demonstrating its commitment to deliver the best possible purchasing experience, in addition to improving the upstream purchase promise, ManoMano will also use the OneStock OMS downstream to perfect its returns management.
Thanks to simplified interfaces and processes, customer service staff will, in a few clicks, be able to manage a multitude of scenarios, such as:
cancelling and/or modifying an order
shipping an item or the entire order again
managing refunds according to eligibility.
Today, an Order Management System is the cornerstone of a retailer's IT system, even more so for a pure player with a marketplace business model, as is the case with ManoMano. In this context, operational excellence in terms of inventory management and order processing, is an essential condition for ensuring rapid development and strong growth. This is why this partnership with ManoMano is a real recognition of the value that our OMS brings and it marks an important step in our development.

Jérôme PICCOLIN – Sales Director, OneStock
OneStock extremely pleased to start this collaboration and we look foward to reporting back in a few months with post-launch data from the Order Management System at ManoMano.