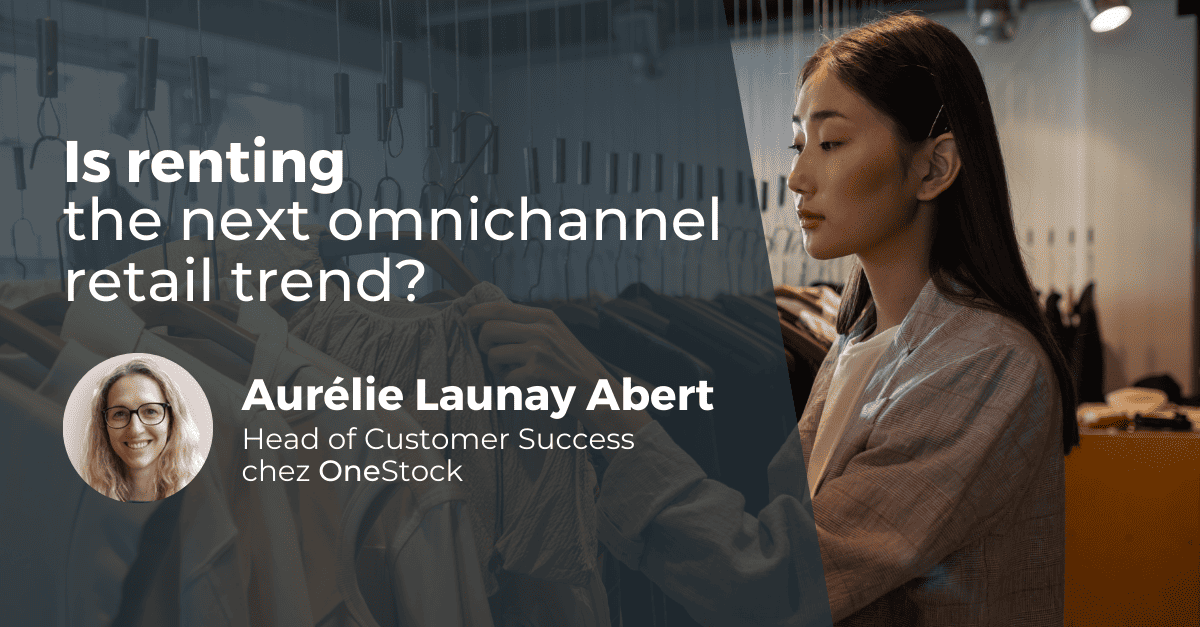 6 min
Is renting the next omnichannel retail trend?
Renting is a trend that has grown thanks to the rise of a circular economy and new omnichannel consumer habits.
Renting, which is developing thanks to customers' ecological worries and companies' CSR commitments, helps optimise recycling items and limit pollution – especially within the fashion industry that is renowned often labelled as one of the most polluting sectors.
This trend follows the ongoing move to 'sell rather than throw away' and 'rent rather than buy new'.
Let's take a closer look at this new way of shopping that is gaining momentum in omnichannel retailing!
What are the paths to purchase for omnichannel customers that want to rent items?
With new consumer behaviours come new omnichannel shopping experiences! The advantage of renting lies in its ability to be used across many sectors of activity.
For example, in the DIY sector, it is simpler and more cost-effective to rent an angle grinder for occasional use than to buy a new one. Another example is footwear, with Atelier Bocage's initiative, which allows consumers to rent rather than buy and thus allows them to refresh their wardrobe according to the seasons. Baby clothes is another niche where renting can be very advantageous as parents need to constantly renew their child's wardrobe as babies grow up very fast. There are many other examples within omnichannel retail that we could mention, as the trend is relevant, useful and adapted to all industries, both BtoC and BtoB!
This rental trend in some sectors is very similar to the 'subscription' model. If we take the example of Atelier Bocage, the shoes are indeed rented and returned at the end of the rental period, however, to facilitate the process, the customers take out a subscription for a variable period of time. In this sort of context, the customer must complete the following steps:
Create a profile and fill in the information relating to their gender, size, the type of items they are looking for and their tastes (to benefit from personalised suggestions). If the retailer allows it, it is also possible to choose the number of items they wish to rent each month
Choose the dates / rental period (1 month, 1 quarter, 1 year) depending on the options offered by the retailer. Generally speaking, the longer the rental period, the lower the subscription costs
Choose the preferred type of delivery from the available options: home delivery, pick-up point, store delivery
After having enjoyed the items within the time limit, it is time to return them! Generally, the retailer facilitates the return process either by integrating the return label when sending the items or by allowing returns in store
It is not uncommon for retailers to add to the rental/subscription offer by allowing their customers to purchase the products at a lower price than the one typically displayed for the item.
Omnichannel retailers are truly entering the era of providing services around their initial offer. Beyond a marketing strategy, it is crucial that they anticipate how these rented goods will be integrated into their overall offer. Rented items can be incorporated back into a second-hand sales channel. OneStock is the go-to OMS provider for the circular economy and aims to support retailers in this forward-thinking process.

Aurélie Launay Abert Header of Customer Success, OneStock
What are the advantages for retailers and omnichannel customers when renting?
Renting is a mode of consumption that is particularly appreciated by buyers. It also has many advantages for retailers, let's look at some of the benefits together!
Benefits for omnichannel customers
Budget control: With subscription rentals, the omnichannel buyer knows precisely how much he or she will have to spend over a given period of time in order to temporarily acquire X number of items. This allows for better budget control than buying new items for which expenses are not always anticipated
Renewing their wardrobe: the same applies here, in addition to controlling their budget, customers can be sure of receiving new items every month, in line with their tastes, preferences, trends and seasonality (sandals in summer, boots in winter)
Access to exclusive items: many sites offering luxury item rental services have emerged. Renting a designer dress for a party, renting a luxury bag for the holidays, all this is now possible to the delight of fashionistas!!
Benefits for omnichannel retailers
Modernising the brand's image: by implementing rental-type consumption models and maximising the communication around them, the omnichannel retailer conveys a modern brand image, in line with the current concerns of buyers
Winning over new customers: the rental model enables new customers to be won over consistently! Indeed, just because you don't need a drill today doesn't mean you never will! In fashion, fashionistas who want new products at a lower cost are likely to be tempted.
Optimising margins: this last point is conditioned by the number of times items are rented. The more an item is rented, the higher the margins. If we take the example of a drill, if the purchase value of the machine is 150€ and it is rented 10 times a month at a rate of 30€ per day… the formula quickly becomes interesting!
Order Management System: why is it an absolutely essential solution for all retailers with sustainable initiatives?
In this context, the Order Management System (OMS) helps retailers share reliable information with their buyers and provide them with a multitude of omnichannel services.
This is where the OMS plays the role of a central hub: it indicates where the stock is located and also defines the best stock point to serve the rental customer. From an order orchestration point of view, it is possible to go further and reinforce a circular approach by defining rules favouring the rental of already used items. If these are not available, then the OMS will use the stock of new items to service the rental.
The Delivery Promise plays a key role in displaying available rental dates and synchronising new slots as soon as a rented item is returned.
Finally, in terms of services, the Order Management System will provide customers with the same services as those generally offered by the brand: home delivery, Click & Collect, etc. One can even imagine Reserve & Collect for footwear products, where the customer can confirm their size by trying them on in-store before renting the pairs of their choice. Returns can also be managed by the OMS, in self-service.
One of the highlights of this rental trend is that it also serves as a source for second-hand platforms. This shows that the different aspects of the circular economy are self-sustaining.
Would you like to know more about OneStock, Europe's leading OMS and rental specialist? Do not hesitate to contact us!