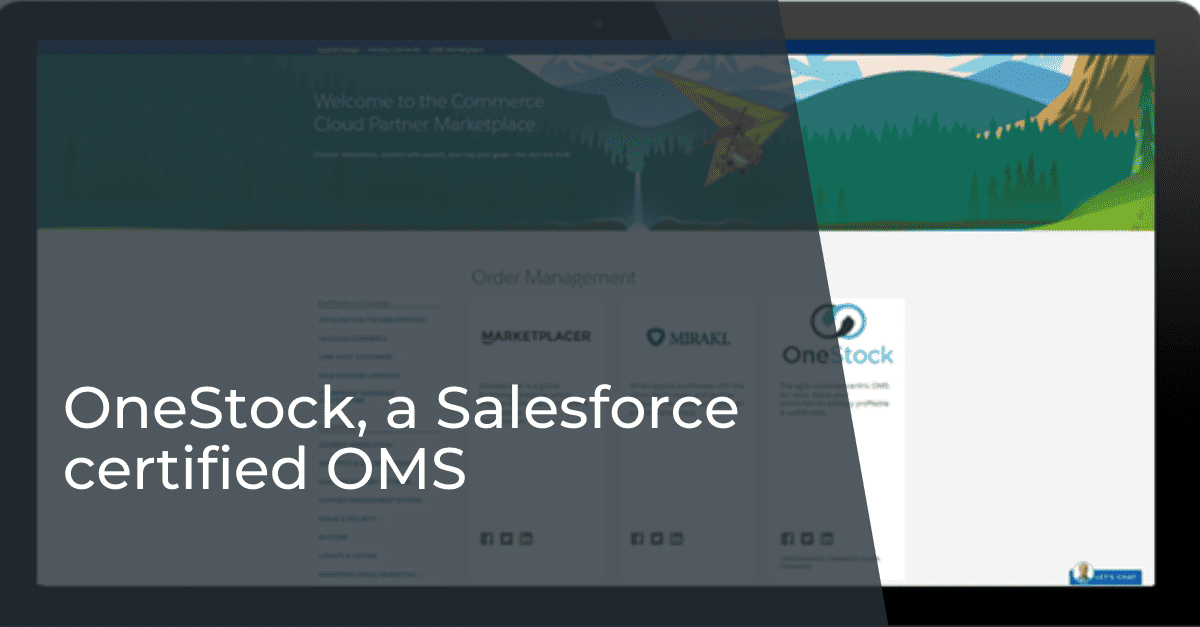 3 min
OneStock is a Salesforce certified OMS
Founded in 1999, Salesforce has gradually established itself as the global leader in CRM. As the European leader in order management, OneStock has partnered with Salesforce to deliver the best that omnichannel has to offer. OneStock OMS and Salesforce Commerce Cloud share the same philosophy, with multi-tenant SaaS solutions, ensuring that retailers benefit from all software upgrades.
With the OneStock x Salesforce connector, Salesforce Commerce Cloud customers can now take advantage of the full functionality of the OneStock Order Management System with just a few clicks in the Salesforce Marketplace.
The Order Management System certified by Salesforce
Like all software vendors wishing to partner with Salesforce, OneStock had to go through a rigorous certification process during which the technical compliance of the cartridge (or connector) was examined. After several weeks of testing, the Salesforce x OneStock connector passed the certification process with flying colours. We are proud to be a Salesforce Partner and as such, listed as an official partner on the Salesforce application marketplace! This is another step in the collaboration between two publishers who are working for the future of omnichannel commerce.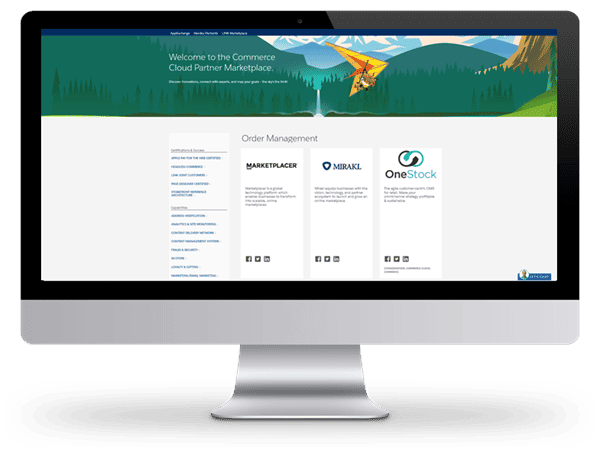 Retailers can now choose two best of breed solutions to boost their business. The integration of these two solutions enables the deployment of an intelligent e-commerce front-end backed by an agile OMS to manage all possible omnichannel scenarios and orders. The implementation of web-to-store and store-to-web scenarios on the retailer's e-commerce channel is now possible in just three clicks.
Stock unification: Salesforce integrates OneStock solutions
Thanks to this partnership, retailers can offer a unique and unified shopping experience. With the unification of stock, all products are available for sale online regardless of the source (warehouses, suppliers, stores, future stock, returns, etc.). All this is done without losing profit or the frustration of being out of stock!
Click & Collect, Reserve & Collect, Ship From Store, Returns Management… these are all needs that OneStock and Salesforce customers have in common as a result of new consumer behaviour. In fact, our solutions had already come together organically, with both already in use by European retail leaders such as Whistles, Phase Eight, s.Oliver, Minelli, ba&sh, Orchestra, Pimkie, Jules, Brice, Sergent Major, Du Pareil au Même, and Petit Bateau.
Here are some of the features that can be enabled with the OneStock OMS and Salesforce Commerce Cloud connector:
Stock unification
Distributed Order Management (DOM): order fulfilment from any stock point
Improved online conversion funnel for web to store scenarios
Stock locator: real-time view of location and stock levels available online, in the store network, etc.
Vendor interface (tablet or cash register) to process and fulfil web or store orders
What are the benefits of the OneStock and Salesforce integration?
With the certified OneStock cartridge, the connection to Salesforce Commerce Cloud is extremely fast and secure, allowing all retailers to easily access the best of unified commerce. Leading retailers can now combine the best of the e-commerce and OMS worlds with a simple and intuitive configuration.
With a shared vision of placing the user at the heart of the business, our partnership with Salesforce is an extension of the growing market demand for a truly omnichannel experience.