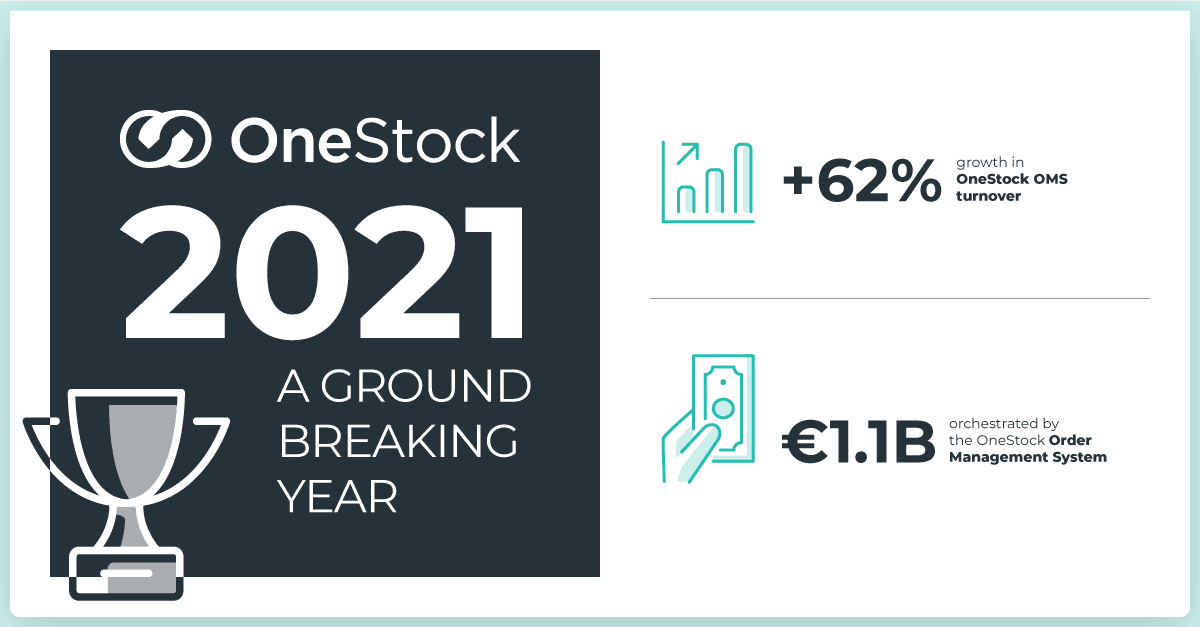 4 min
2021: an extraordinary year at OneStock with 62% growth + more numbers
Even though 2021 was dominated by the pandemic, the retail industry continued its transformation and its investments in omnichannel. An Order Management System (OMS) is a key tool for retailers to keep up with the evolution of consumer habits. Once again last year, OneStock was a strategic partner to many retailers, guiding their transformation and enabling them to combine profitability and a unified shopping experience.
Omnichannel: challenges common to all retailers
In addition to increasing their business growth and profitability, retailers today must satisfy increasingly demanding customers while adapting to a complex environment. The health crisis disrupted global logistics, creating shortages in the run-up to the holiday season.
In this context, the importance of Order Management Systems (OMS) becomes clear. Regardless of the sales channel chosen by the buyer, the Order Management System can find the desired product, regardless of where it is stored. If the article turns out to be out of stock, the OMS can place an order via Future Stock (stock in transit or production).
Previously recognised as the OMS leader for fashion and the OMS expert for luxury, OneStock is delighted to be working with leaders in new sectors such as jewellery, furniture, cosmetics, footwear and even industry (B2B). Proof, if any were needed, that all retailers, whatever their sector of activity, are facing the same challenges!
With more than 70 OMS clients to its name, a number of international clients joined OneStock in 2021, including Mellow Yellow, Absorba, All Good Things, s.Oliver, Refined Networks, Petit Bateau, Yves Rocher, Minelli, Chantal Thomas, La Fée Maraboutée, Figaret, Catimini, Passionata, Femilet, Livera, JJA,…
OMS, a growth driver for retailers
In a study conducted by Savanta for OneStock in the summer of 2021, consumers said they wanted more flexibility and choice when shopping. 28% of consumers would like to buy products listed on the website in-store and 60% would go to a competitor if they had better delivery options! Omnichannel is no longer an option and retailers who have chosen an OMS have quickly seen the benefits: their sales volumes have increased considerably this year!
As a result, OneStock customers have set new records for omnichannel transactions and orders! Here are some key figures for the OMS OneStock platform in 2021:
1.1 billion euros generated by the OneStock Order Management System
13,347 physical stores now use the OneStock Store Associate App, across 28 countries
2,917 packages shipped in one day from one store
Proof of OMS's relevance and impact on the retail world, OneStock was cited for the first time by the world's leading consulting firms! Gartner, Forrester, IHL and PwC have all recognised the benefits of the solution and its virtues for retailers and their end customers. OneStock continues its progression in the global software landscape and is now the European leader in OMS.
A pivotal year for Europe's leading Order Management System
2021 marked a new step in OneStock's development: the arrival of Silverfleet, a leading European private equity firm. This international investor's entry into OneStock's capital will strengthen the company's growth strategy for the coming years, accentuate the solution's technological lead and reinforce its international presence.
OneStock's one goal: To build the leading Order Management System solution in the world
After growth of +110% in 2019, +50% in 2020, 2021 ends with an OMS turnover increase of 62%! A great performance that goes hand in hand with a 23% growth in the number of employees across Europe.
OneStock also had the honour of being acknowledged by several international organisations and awards such as :
the Retail Systems Awards 2021 in the "Logistics & Supply Chain" category in the UK,
the Fevad' Start Me Up ranking, OVH's open trusted cloud and the FrenchWeb Top500 in France,
the "Best Connected Retail Solution" award at the EHI RETA awards 2021 In Germany
"2021 has been an extraordinary year for us, with many strategic changes shaping the growth of our company for the coming years. The solution and the team have grown considerably with new colleagues across Europe. I feel very honoured to see the number of new retailers that have trusted us this year, including in new industries and new regions with a major new signing in Germany and a great project in Russia! At OneStock, we are proud to be able to combine business and pleasure, it's the foundation of our DNA!".

Romulus Grigoras – CEO & Founder, OneStock
2021 once again proved that the retail transformations of the last 24 months have changed retail forever and that an Order Management System is the new must-have for omnichannel retailers.