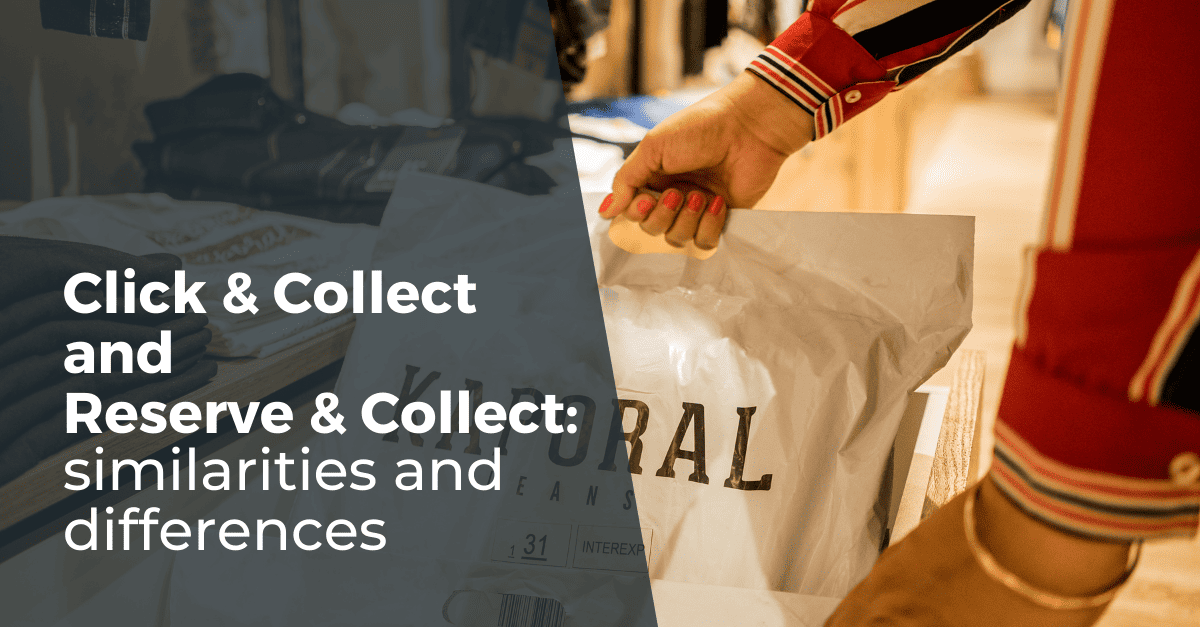 4 min
Click and Collect vs. Reserve and Collect: similarities & differences
In 2020, 74.5% of European shoppers went to a store to pick up their online orders. This means that among the omnichannel solutions available, Click and Collect and Reserve and Collect are very popular with online shoppers.
The COVID-19 pandemic and environmental concerns have accelerated this trend. The implementation of these types of services is now essential for all multichannel retailers to remain competitive and respond to new consumer trends.
What are the similarities and differences between Click and Collect and Reserve and Collect? This article will explain everything. Let's get started!
The many benefits of Click and Collect & Reserve and Collect
Before we start, let's clarify the two concepts:
➡️ Click and Collect is a service that allows your customers to buy a product online and pick it up in-store.
➡️ Reserve and Collect allows a customer to check the availability of an item in-store and reserve it before visiting, without the need for payment.
Both services have several clear advantages for customers and retailers alike.
The benefits for customers
Click and Collect and Reserve and Collect are popular services, as they have obvious advantages:
No more delivery fees: According to a Sendcloud e-commerce study, 78% of online shoppers say that high delivery costs cause them to abandon their shopping cart. By allowing customers to pick up an order free of charge, you avoid losing a large part of your online customers.
A fast and convenient service: Click and Collect, if the store has immediately available stock of the ordered item, considerably reduces the delivery time. The quick availability of the ordered product greatly contributes to a better shopping experience and increased customer loyalty. Click and Collect also saves the consumer the inconvenience of delivery times. Some retailers offer the possibility of choosing collection times for even greater convenience. The same applies to Reserve and Collect. The service is even super-fast because the shop already has the stock.
A reduced environmental impact: Environmental concerns are becoming increasingly important in the online shopping experience. Trying on or picking up an order in-store limits transport flows and therefore additional CO2 emissions.
Moreover, if the item is not suitable, it is also possible to return it directly to the store (Return to Store), again avoiding the need for a carrier.
The benefits for the retailer
Increase in web to store traffic: Are your stores experiencing a drop footfall? Omnichannel services such as Click and Collect and Reserve and Collect help to generate footfall in your store.
Cross-selling in store: According to a FEVAD report, nearly 33% of e-customers bought other products in-store when they came in to pick up an order. When a customer comes to your store, the display of additional items, the sales staff, the merchandising and other criteria encourage the purchase of new products.
Lower transport costs: The last mile represents a real logistical challenge and a significant cost for many retailers. Carriers are also confronted with municipalities' desire to reduce traffic in city centres. By implementing a single logistics flow between the warehouse and the store (for products ordered online), the logistics chain is significantly simplified and therefore less costly. Transport costs can be further reduced by combining Click and Collect and Reserve and Collect with a unified stock and a specific order orchestration pattern. It seems obvious that the best way to reduce transport costs is simply to not have to transport anything. So when a consumer reserves or buys an item that is already in stock in the store they want to visit, no transport is required.
The differences between Click and Collect & Reserve and Collect
These two services are often mixed up. Although they are similar in some respects, there are several key differences:
A different billing method: Click and Collect requires payment online, upon ordering. For Reserve and Collect, payment is made in-store only if the fitting is successful.
A different customer approach: Reserve and Collect is more suitable for in-store sales. When the customer comes to try on the desired item, the store associates can focus their attention on advising the customer and offering other products. The role of the store staff is different from Click and Collect, where it is simply a matter of handing over a packaged item to the customer.
Let's recap: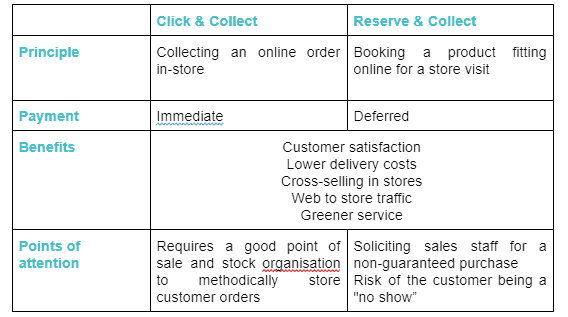 Click and Collect and Reserve and Collect are vital omnichannel solutions for a modern customer journey.
More practical and economical, these scenarios represent a real opportunity for cross-channel retail to distinguish itself from pure players.
OneStock offers tailor-made Click and Collect and Reserve and Collect solutions. Get in touch today for a demo.