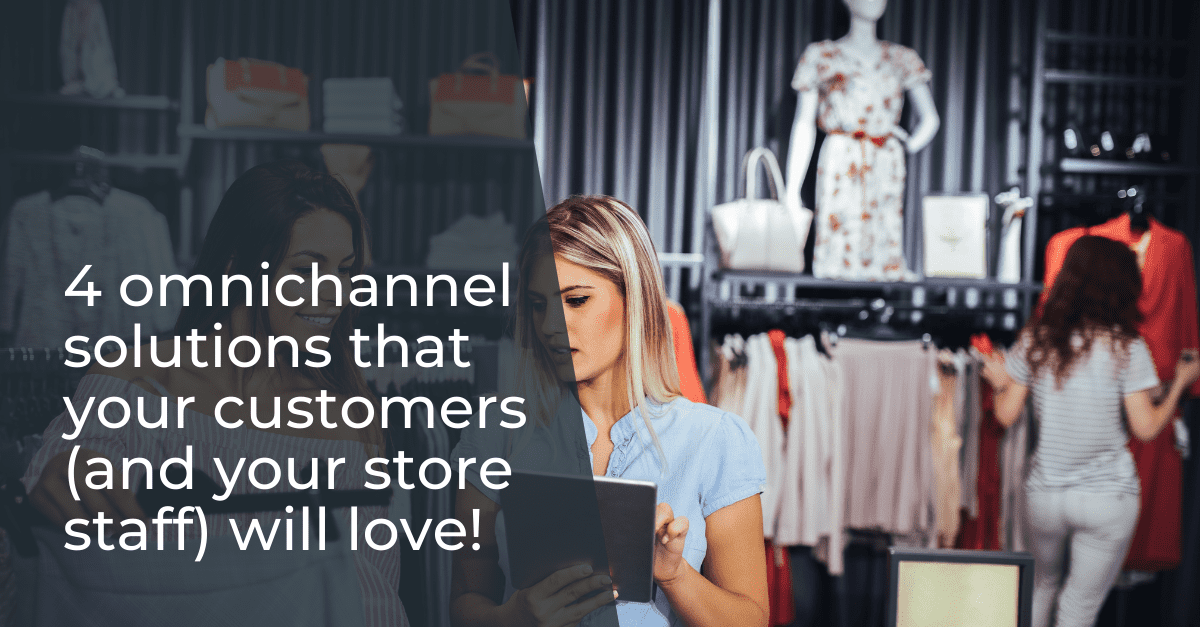 3 min
4 omnichannel solutions that your customers (and your store staff) will love!
Digital and omnichannel have reinvented the shopping experience. Today's customer wants to be able to buy and return a product from anywhere, at any time and in many ways.
Faced with these new customer habits, retailers have several solutions at their disposal. Here are 4 solutions that should be implemented urgently in an omnichannel strategy.
Order in Store
A stock item no longer available in your store? Order in Store allows you to order the item directly from the shop floor.
A real asset for our small stores which can "digitally" broaden their product range

Marie Dominique Marpault – Retail Director Europe at ba&sh
In practice, when an item's no longer available on the shelf, the store associate can access all the products in the catalogue via a tablet. The item reference can be identified via a search engine or by scanning the barcode of the same article in a different size. All information is displayed: stock, product location, sizes, etc.
All you need to do to finalise the order is to process the payment and choose a delivery method. Customers can have their order delivered to their home or Click & Collect in their chosen store.
Order in Store improves the in-store customer experience and increases in-store sales. As an example, following the implementation of Order in Store, Ba&sh achieved a 6% increase in in-store turnover in the first month.
Click & Collect
This method of collection is particularly appreciated by customers.
There are many advantages:
No delivery charges
Rapid availability of the order
Collection at the customer's convenience
More ecological than home delivery
For the retailer, Click & Collect is also advantageous. First of all, it generates online to store traffic which often translates into additional sales. In addition, Click & Collect reduces the transport costs associated with delivery. For large volumes, the difference can be considerable.
Reserve & Collect
Reserve & Collect makes it easier to try on an item in-store. Unlike Click & Collect, no prepayment is required.
The weak point of online sales is that you cannot feel or try on the items. In fact, according to a European study, 9 out of 10 customers say that this is one of the main obstacles to buying online.
Reserve & Collect provides an effective solution to this problem and is a free, convenient service for the customer. They can simply choose the nearest store and come in and try on the item whenever convenient.
In-store appointment
The in-store appointment is a premium shopping experience that allows a customer to book a personalised shopping session online.
In practice, the in-store appointment offers:
Highly personalised advice
Product selection by the store advisor
Presentation of the latest collections
Assistance in purchasing a gift
These appointments allow us to surprise and delight our customers by offering a personal touch tailored to their individual needs

James Williams – Director of Online Trading & Marketing at Phase Eight
Following the implementation of the in-store appointment, RougeGorge generated over 800 appointments in the 170 selected stores with record shopping baskets.
How can retailers offer these services?
Order in Store, Click & Collect, Reserve & Collect and In-Store Appointment are all made possible by the deployment of an Order Management System (OMS). This solution unifies all warehouse, store and supplier stock and optimises all logistics flows.
Simple to use and deploy, the OMS enables a complete omnichannel strategy that can be put in place to meet your customer demands.