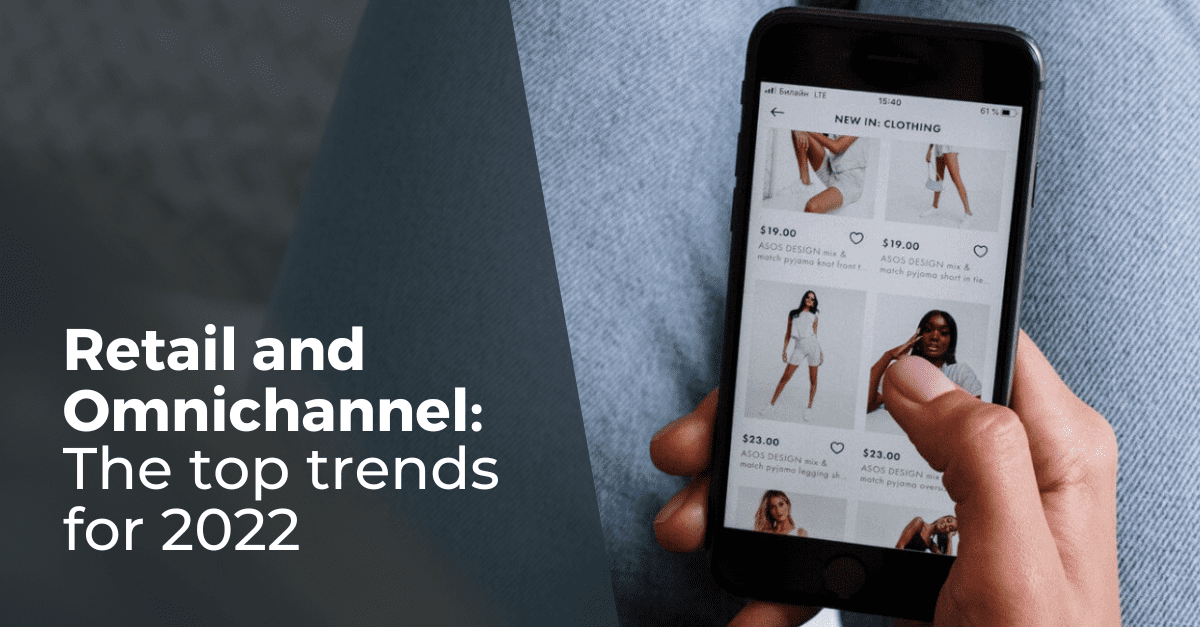 3 min
Retail and Omnichannel: The top trends for 2022
2022 has only just begun and yet you are already at the starting blocks! Mere days after Christmas, you are already set for the winter sales and a new year of omnichannel retail. Let's take just 5 minutes to take a look at the 4 major trends of 2022 and check that you are well and truly ready for this new year!
Omnichannel retail trend n°1: Environmental concerns at the heart of all logistics strategies!
The facts, highlighted in our omnichannel report, clearly show that retailers who do not take an interest in environmental issues will be the big losers in 2022! More than 60%* of shoppers say they are concerned about environmental issues and recommend that brands use new technologies to make order fulfilment more eco-friendly.
With the rise of second-hand shopping and consumer awareness, brands need to be transparent, aware of their impact and strive to make improvements from order fulfilment to delivery. To do this, solutions like Delivery Promise allow retailers to be transparent about the impact of the different delivery methods (carbon footprint).
However, in addition to optimising their logistics systems, retailers will need to communicate about the changes they are making and clearly state their goals.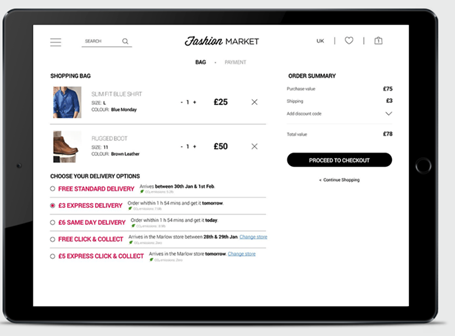 Omnichannel retail trend n°2: Gain a competitive advantage thanks to Returns management!
Customer experience will, more than ever, be at the heart of retailers' concerns. It is, therefore, necessary that they finally address one of the main pain points of retail: returns management.
With 30% of all online orders being returned, retailers will have to put themselves in their customers' shoes and simplify the process in order to be truly efficient. They will need to consider all possible scenarios: buy online and return in-store (BORIS), buy in-store and return by post, buy in-store and return in-store, buy online and return by post (via a pre-printed label), …
Retailers who are able to offer simple return conditions will have a real competitive advantage over their competitors. They will also significantly improve their loyalty rate!
Omnichannel retail trend no. 3: Digitalising stores for a shopping experience more in line with customers' expectations!
Stores will always have an important place in the customer's shopping experience. However, retailers must expand in-store digital services to meet customers' needs for speed and personalisation.
Shops are evolving from simple points of sale to order-taking locations (with Order in Store), mini-warehouses (with Ship from Store), personalised showrooms (with In-Store appointments)… The results of these omnichannel solutions are :
On average, a 30% increase in web sales with OneStock's Ship from Store,
A 6% increase in sales in the first month of activating Order In-Store (ba&sh)
The average shopping basket size multiplied by 3 thanks to In-Store Appointments (RougeGorge Lingerie)
Omnichannel retail trend no. 4: E-commerce is increasingly sought after by buyers!
A 25% growth forecast for e-commerce in Europe in 2022 (excluding food and travel) – this is Forrester's prediction**. This only confirms the need for retailers to implement omnichannel solutions to optimise their digital channel's profitability (Ship from Store, Click & Collect, Reserve & Collect, Delivery Promise…).
E-commerce is gaining more and more market shares due to how quick and practical it is for consumers. The OneStock Order Management System (OMS) can meet this growing demand. Preparing for this boom is essential, especially in a context where Covid-19 restrictions still loom!
How can this be done? By opting for omnichannel stock management and using store stock (Dark Stores, Ship from Store), warehouse stock and future stock (in the process of being replenished) to serve web orders.
* Omnichannel Study: How retailers can serve the post-Covid shopper
** Tendances Retail et e-Commerce 2022, Forrester