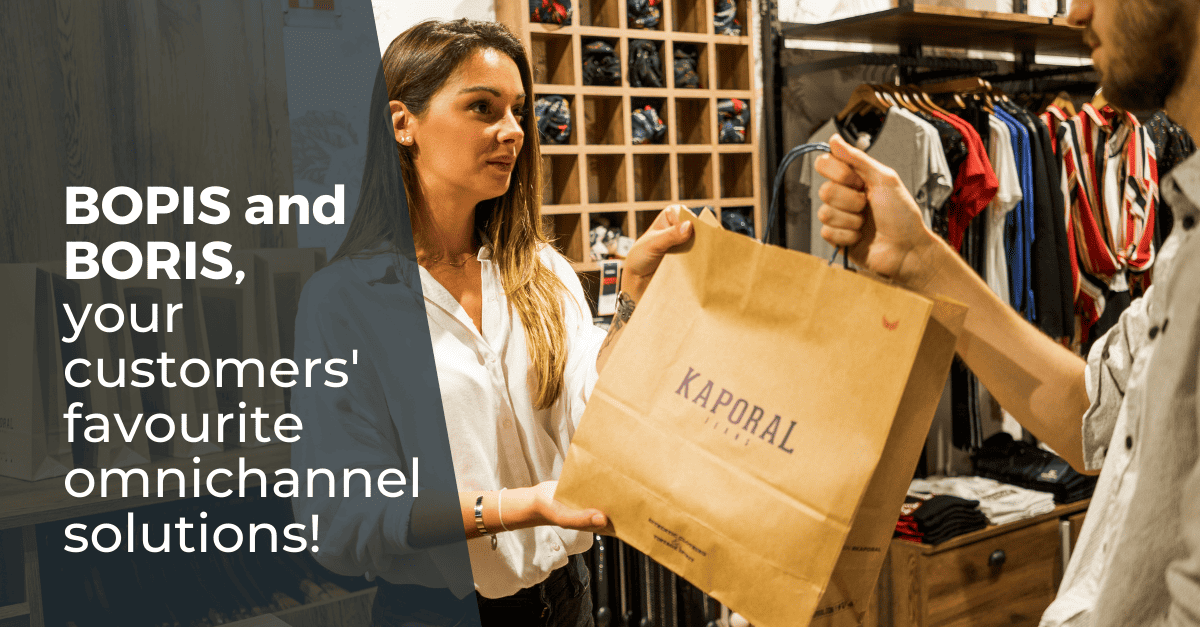 5 min
BOPIS and BORIS, your customers' favourite omnichannel solutions!
With fierce competition from Amazon, the rise of marketplaces and Covid-19, brick-and-mortar retailers are facing many challenges. Will this lead to the end of physical stores?
We don't think so. Stores offer omnichannel solutions that are highly valued by consumers. This is particularly true of BOPIS (Buy online pick-up in-store) and BORIS (Buy online return in-store). What exactly are these solutions? How can you implement these in-store scenarios to improve the customer experience and differentiate yourself from the competition?
BOPIS, BORIS, what is this about?
BOPIS: Buy online, Pick-up in store
Just like Click & Collect, BOPIS allows your customers to buy a product on your website and then pick it up in-store.
Some retailers are going even further in terms of omnichannel to satisfy their customers. For example, Walmart offers a Curbside Pickup service where an employee will load the ordered items straight into the customers' car at no extra charge.
BOPIS is a real guarantee of satisfaction for the customer as it allows them to avoid delivery costs while giving them the possibility of picking up their order quickly.
It is always good to remember that a satisfied customer = a loyal customer.
dddd
BORIS: Buy online return in-store
BORIS allows customers to return a web order to a store. It is a self-service returns service that delivers a truly omnichannel customer experience. BORIS is a real advantage over "pure players" for whom, by definition, customer returns can only be done by returning packages.
To give an idea of the importance of this topic, 72% of web shoppers would buy more online if the customer returns process was simpler and more accessible (Source: FEVAD).
BOPIS and BORIS are omnichannel solutions that have emerged as a result of the change in buyer behaviour. Consumers now want to buy and return a product anywhere, anytime and as quickly as possible. The deployment of an omnichannel offer is therefore essential for all retailers and physical stores remain at the heart of this strategy.
The 4 advantages of BOPIS and BORIS
1. Reduced transportation costs
Using BOPIS or BORIS limits the need to use carriers to ship and return orders. It is the customer who makes the trips. This can reduce your shipping and return costs.
In addition, less transport = less carbon impact, which is good news.
dd
2. Increased in-store footfall and more cross-selling
As previously mentioned, physical stores are at the heart of BOPIS and BORIS. These two omnichannel solutions generate footfall in your store and increase the chances of additional sales as a result.
On average, there is a 10-20% cross-sell rate when collecting Click & Collect orders and a 30% cross-sell rate when returning in-store vs. online.
When a customer comes into a shop, the store associates, merchandising and other criteria encourage them to make another purchase.
dd
3. Faster and cheaper returns processes
There is a 20-30% return rate for online orders. These returns can be a logistical challenge and time-consuming for both customers and retailers.
BORIS eliminates the need for a carrier and speeds up the process. The customer can simply return the product to the store of their choice at any time and get a quicker refund.
As for the retailer, the return to stock is almost immediate therefore speeding up the resale of the item. Also, as with BOPIS, offering in-store returns provides an opportunity to make additional sales.
dd
4. A service in step with consumer wants
The flexibility offered by omnichannel commerce is perfectly in tune with the habits of today's consumers. Hyperconnected and in a hurry, customers want a 100% omnichannel experience for both purchases and returns. The services offered must be useful, fast and efficient.
How to implement BOPIS and BORIS?
The implementation of these omnichannel solutions requires a dedicated tool and staff training.
Implementing an Order Management System (OMS)
An OMS is the ultimate SaaS tool for omnichannel commerce.
The idea is simple: to unify all your stock (stores, warehouses, suppliers, drop shipping, future stock, etc.) within the same tool.
The OMS then enables the deployment of numerous omnichannel services including BOPIS and BORIS.
Thanks to the orchestration rules, it is a highly customisable solution for retailers. For example, you can decide that web orders will be served, in priority, by stores located near the customer's delivery address and that have available stock.
As the European leader in OMS, OneStock can assist you in the implementation of services such as BOPIS and BORIS. Do not hesitate to ask for a free demo of our tool!
dd
Training of your store associates
In addition to them mastering the processes via the OMS tool, it can be interesting to train your store associates in cross-sell or upsell techniques when your customers come into your stores.
If you have sufficient staff, roles can be allocated for even greater efficiency. For example, when a garment is returned, one store associate can help the customer try on new models while another takes care of restocking the item.
OneStock also offers stores a "Clienteling" solution that provides a hyper-personalised shopping experience via customer data:
purchase history
products viewed online
In the context of increased competition with e-commerce and changing consumer behaviour, retail must adapt. BOPIS and BORIS are omnichannel solutions in line with your buyers' new needs. Don't wait any longer to implement them!