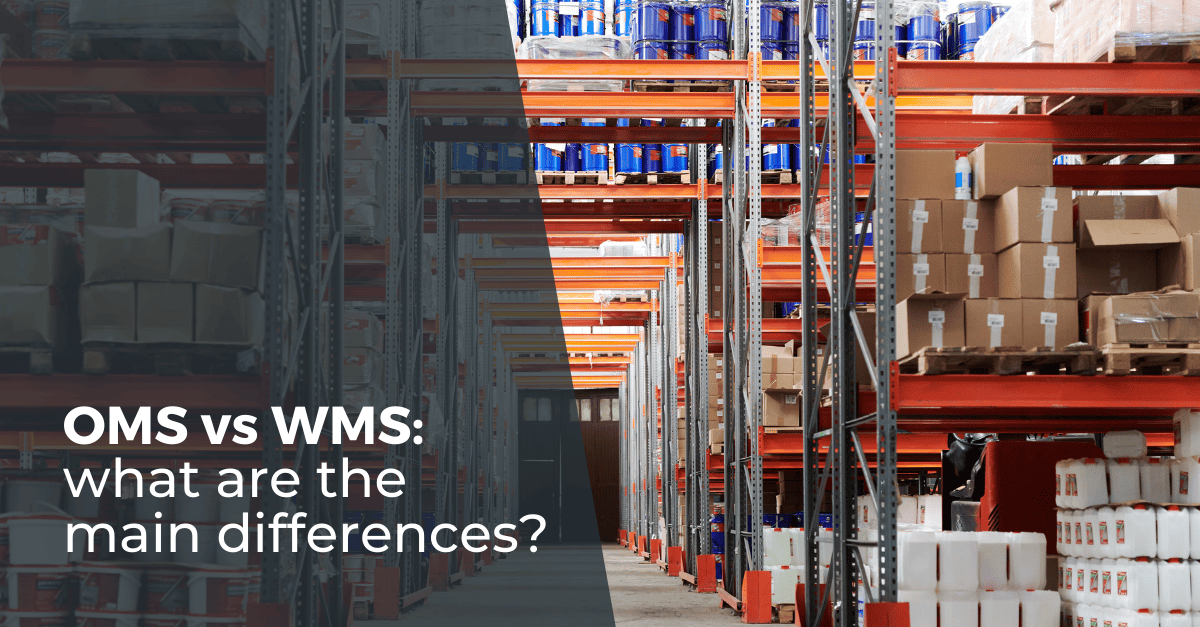 4 min
Order Management System vs Warehouse Management System – What are the main differences ?
Warehouse management systems (WMS) and order management systems (OMS) are two key systems for retailers who want to provide a seamless omnichannel experience and optimize their order fulfilment processes and KPIs, while simultaneously enhancing Customer Service.
As these two systems both manage stock and as their very high-level objective is « delivering orders to customers faster and more efficiently", some confusion may arise as to why we need these two different systems at all. Is it really useful to have the two of them? What are their main differences?
Moreover, the lines between these systems have become blurred, as often happens in IT. Both OMS and WMS providers have developed some features that have taken on characteristics from their counterparts.
OMS and WMS, conductor and executor
Let's start from the beginning with some very simplified definitions of the scope of these two systems :
WMS helps the logistics teams to better manage operations within a warehouse, to access real-time inventory levels and storage information, to manage demand forecasting, and sequence order fulfilment workflows including slotting, picking, packaging, and shipping within a warehouse (including its docks).
OMS is useful when retailers have more than one point of stock (multiple warehouses, or one warehouse and stores or other points of sale…)
In this case, OMS is a complementary solution to WMS. It stands at a different level than the WMS as the OMS processes all incoming orders, whatever the channel they come from, be it e-commerce, marketplace or even BtoB orders in some cases. It then « orchestrates » them to maximise efficiency and minimise fulfilment and transportation delays and costs…
To « orchestrate » an order means that the OMS, exactly like a conductor in front of his orchestra, decides how to process every incoming order and where to send it (or part of it) for immediate fulfilment. It does this by analysing all the real-time information it has about the stock levels of the items at the different points of stock and according to the pre-configured orchestration rules which would have been defined by the retailer.
So, in a way, you could picture the OMS as the main decision-maker whilst the WMS would be the executor. The latter executes the fulfilment orders that he receives from the OMS when the OMS identifies that particular warehouse as the most effective place to fulfil that specific order.
And, exactly as above, when a customer decides to return an item, the OMS – on top of managing the refund – will decide where to have that order sent for processing (repairs, resold as refurbished products…)
So WMS and OMS should be seen as working partners, as both are essential when it comes to creating a transparent order process in the omnichannel supply chain. In addition, these systems should share information to create a seamless experience for the customer and to address possible issues that may arise during order fulfilment and/or during the reception and management of returns or recycled products.
OMS is not only a logistics optimiser
That being said, it would be reductive to define an OMS only by its order orchestrator role. Indeed, an OMS is a lot more than only a logistics tool.
An OMS is a customer-oriented tool that allows retailers to provide a truly omnichannel experience to their customers, with services like Buy online, pick up in-store – Reserve online, try on in-store – Buy online, return to the store – Buy in-store, return to my mailbox… It also solves problems linked to stock-outs by allowing retailers to sell products that are unavailable online or in-store by simply sourcing the item from elsewhere in their network, or by taking into account items that are in the process of being restocked.