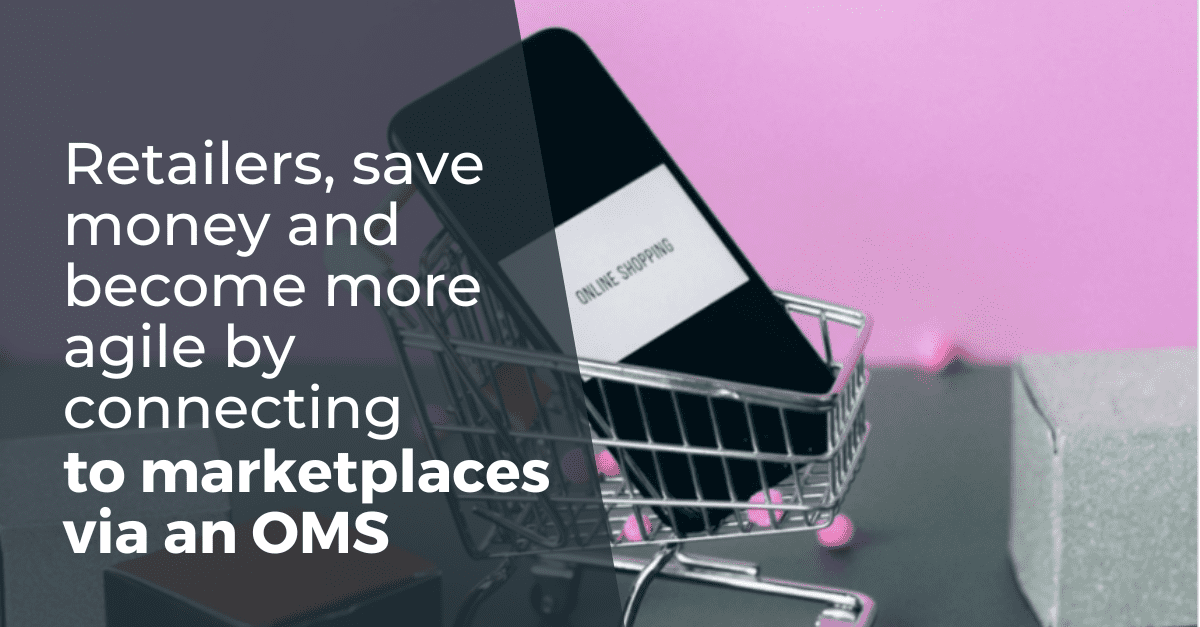 4 min
Retailers, save money and become more agile by connecting to marketplaces via an OMS
Marketplaces are now becoming major growth partners for retailers. According to Mirakl, they recorded an 81% growth in 2020, which is twice as much as the online retail sector!
As a retailer, it is likely that you are already connected to one or more marketplaces, either British or European. This allows you to reach a wider customer base than only your most loyal buyers.
OneStock's customers are increasingly aware of the importance of being present on marketplaces and are asking us to integrate our Order Management System (OMS) with these platforms. Our expertise in this type of project allows us to explain why connecting to marketplaces via an OMS is particularly relevant for your organisation and your growth.
Connecting to marketplaces via our OMS is quick and easy!
If you use one or more marketplaces, you have probably developed connectors between your ERP and the various marketplaces on which you are present. This means that orders placed on these platforms flow directly into your ERP. Connecting the marketplaces to an OMS rather than to an ERP is a smart move that will simplify your IT architecture and make it faster:
Simplifying your IT architecture: the OMS acts as a hub that hides the complexity of the various connections with the marketplaces from the rest of your IT system. Each marketplace has its operating system, APIs, protocols and limitations. It is much simpler (and much cheaper!) for you, as a retailer, to entrust the management of all these connections to the OMS rather than to connect the ERP to the marketplaces yourself.
More speed: an ERP is a tool that is not designed to manage incoming orders. Technically this can be done, especially with a specialised retail ERP, but at what cost? Many limitations add extra time to the processing of orders. An OMS is a real order orchestrator, a tool designed to manage orders via any sales channel, including marketplaces!
Ship From Store, a real asset for marketplaces orders
To date, the ordering process is very linear: a marketplace order arrives directly into the retailer's information system, whereupon the system sends the order to the warehouse for preparation and dispatch.
By processing marketplace orders via an OMS, it is possible to achieve the same result, but with the products being shipped from stores. For example, one of your stores can prepare an order that came from a marketplace, print a label with the logo of the platform from which the purchase came and ship it. This solution is called Ship from Store!
This can be very useful in the following cases:
An item is unavailable in your warehouse: Don't keep your customers waiting, send them the items directly from another stock point, for example, a store if it has the items in question. Thanks to an OMS and stock unification, you can create and put into application orchestration rules beforehand.
Activity peaks on your e-commerce site: Black Friday, clearance sales, private sales… Your e-commerce platform and your warehouse stock can be put under pressure. With an OMS and Ship from Store, even if your warehouse is no longer able to ship your items, you can ship them directly from your stores and avoid stock shortages.
Your customer lives near one of your stores: Are some of your stores closer to your customers than your warehouse? Thanks to the OMS and Ship from Store, ship your products directly from the stores closest to your customers. The benefits? Lower transport costs and a reduced carbon footprint. Some of our customers will also favour having their order delivered by bicycle.
International sales, in areas where you have stores but no warehouses: Perhaps you have chosen to use marketplaces in certain international countries where your brand is not yet sufficiently known. If you have physical stores in these areas, Ship from Store can help you reduce the transport costs of delivering these orders internationally.
Want to know more about OMS and unified retail? Get in touch!